The Ice Cream Soda Chronicles
This quilt is a diary. Within its stitches lie stories of sorrow, searching, slowness, and soothing. It is a chronicle of a season in my life that is, as of yet, still difficult to put into words. It has been my companion and confidant through some inexpressibly difficult times. But here it is, binding on, label affixed, and offering warmth and comfort as much as ever.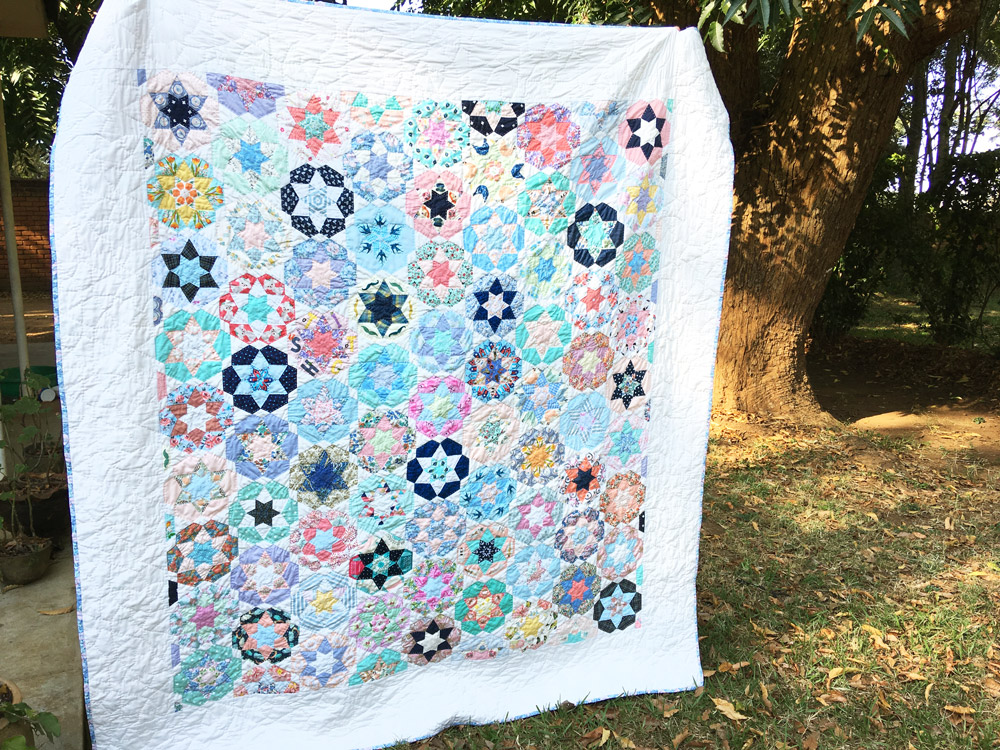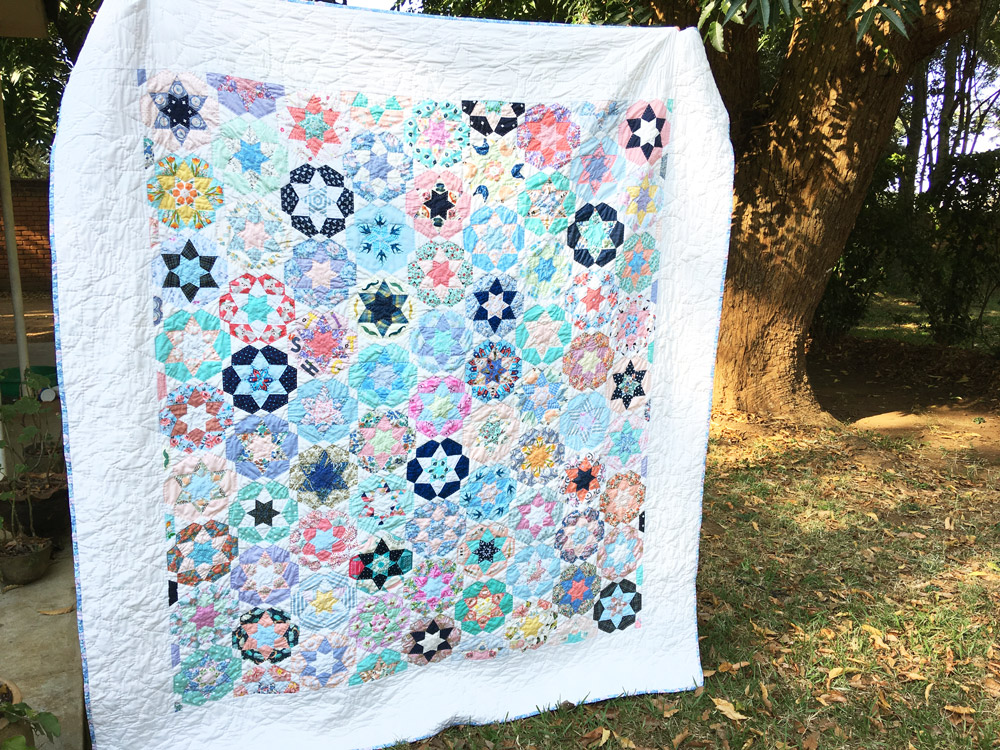 I've wanted to write about it since I finished it a little over a month ago, but this is a quilt that has refused to be rushed at every juncture. It has forced me to stitch slowly, quilt slowly, finish slowly, and reflect slowly. All things that historically gave me anxiety.
I can't tell you how many times I felt like this quilt would never be done. I even put it down completely for about six months because I couldn't "keep up" with the stitchalong schedule. During that season of my life, I needed anything but a reminder that, yet again, I didn't measure up.
But, like a faithful friend, it waited patiently for me to come around. Never pushing me, but always there, beckoning me to consider how my perspective might change.
And then, one night in the middle of a really cold winter, it did. I had a moment of enlightenment when I realized that any progress was better than no progress.
I spent hours that night scrolling through the #icecreamsodaquilt hashtag on Instagram, admiring the beautifully finished tops by others in the sewalong. And for the first time, I didn't compare myself with them.
I let those beautiful tops inspire me.
Maybe I could just pick it up and start stitching again. Maybe I could just stitch one round on one block a day. It would be better than nothing, right?
So, I started stitching. And, I started recording my progress. If I only basted one piece or only stitched one seam, it counted. It was more than I had done yesterday, after all!
Before I knew it, the number of finished blocks started to outweigh the number of unfinished blocks. An Instagram challenge popped up that inspired me to challenge myself to stitch two blocks a week for a month (which seemed IMPOSSIBLE to me at the time) and by the end of that month I actually stitched the equivalent of three blocks per week!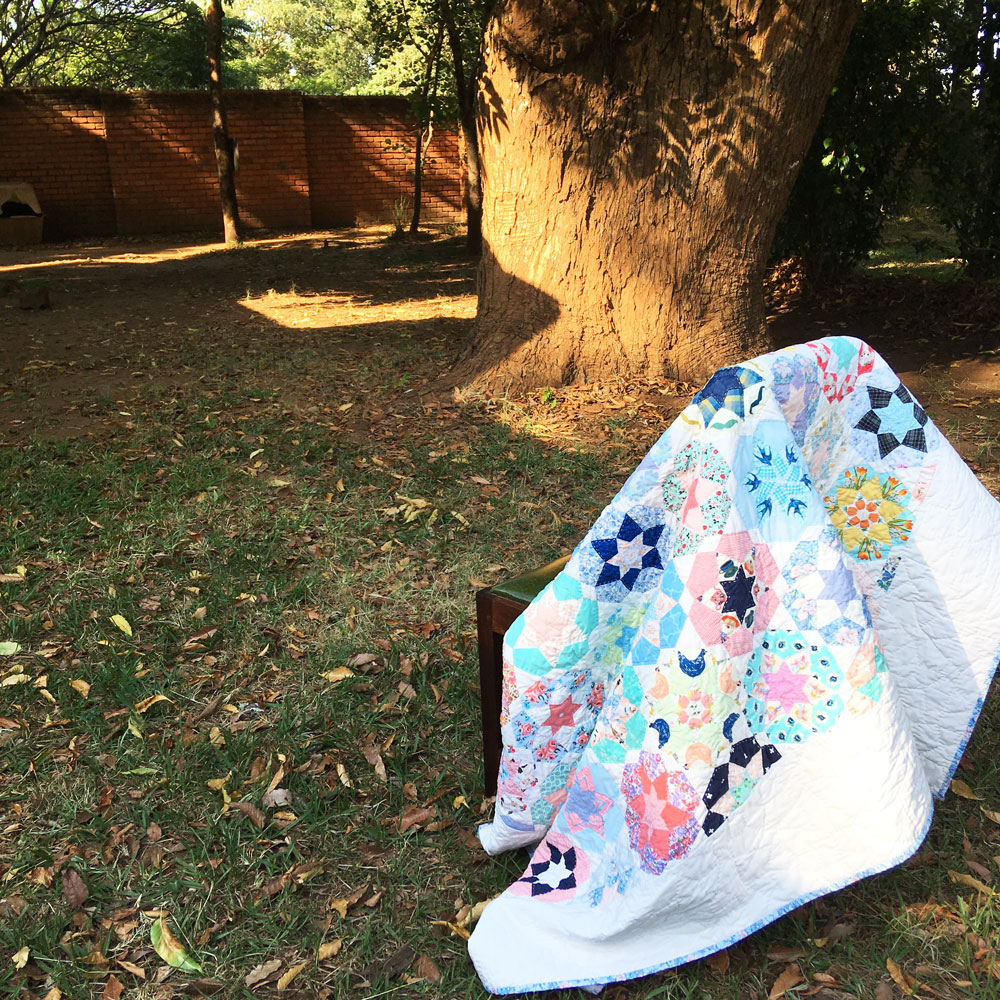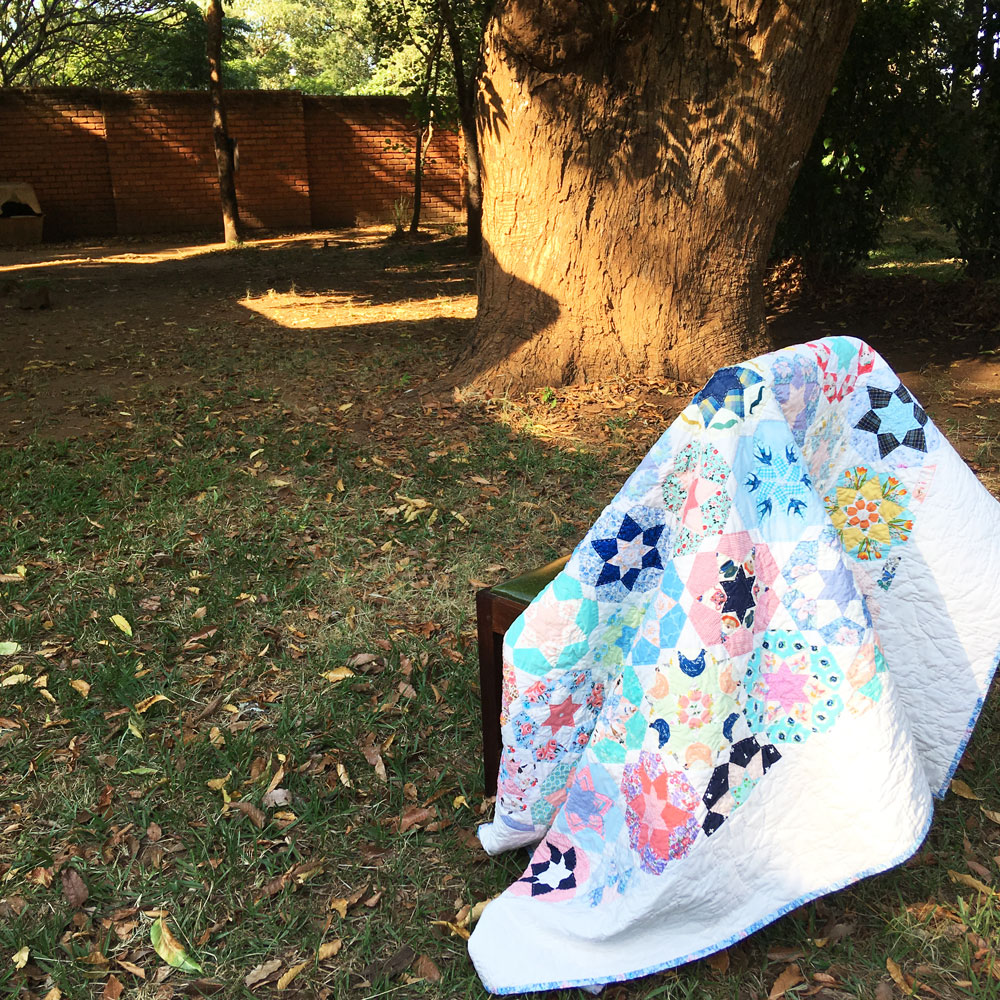 After that, I found my rhythm and a few short months later all of the whole blocks (well, all the whole blocks I thought I was going to make – I added nine more to size it up later) were finished! It was still another nine months before I finished the entire quilt, but that simple practice of stitching what I could and then recording it in black and white did so much more for me than just help me finish the quilt itself.
It revealed something about patience, diligence, and giving myself grace. It beckoned me to hang back and listen rather than force an outcome. It reminded me life is so much more like a work of art than an excel spreadsheet.
Life doesn't always give you back what you put into it the way you expect it to. Sometimes, it brings you along a way that seems like a complete off-roading detour (or "scenic byway," as a friend recently called it), but in the end you find yourself so much closer to where you wanted to be from the beginning.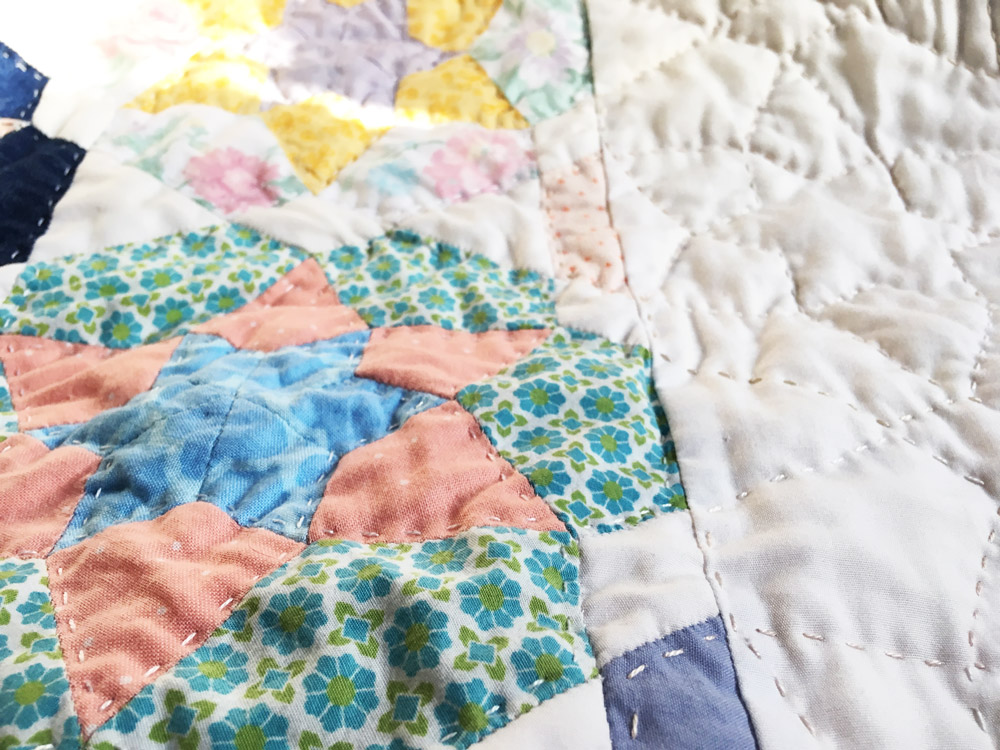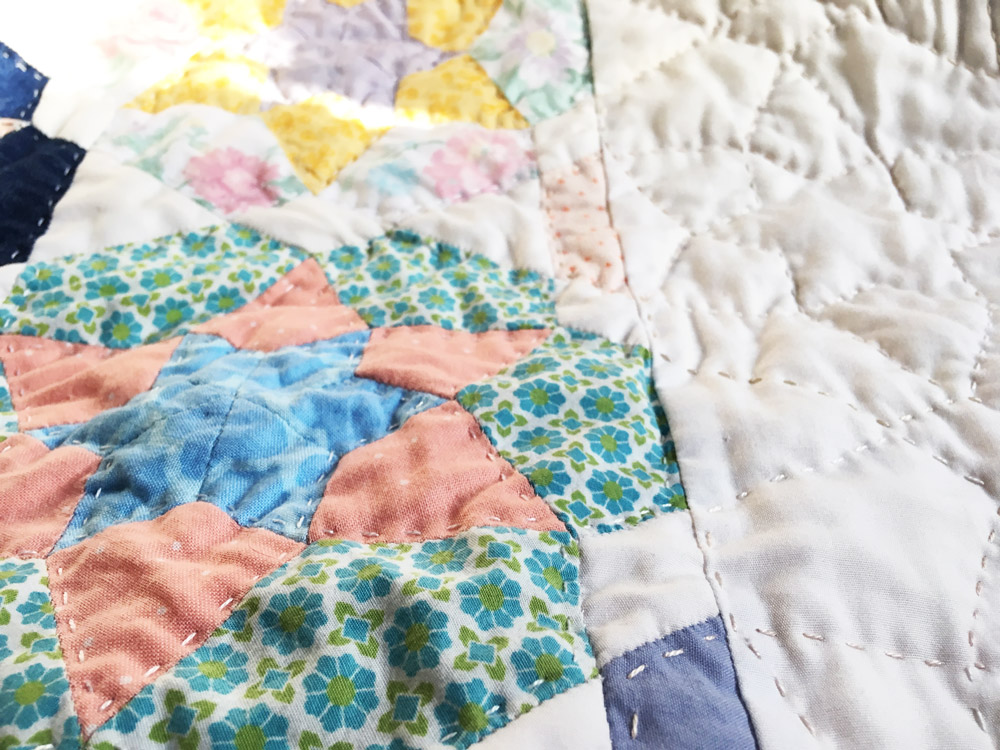 As I run my fingers over the crinkly, hand quilted texture of this quilt (Ice Cream Soda quilt pattern designed by Jodi Godfrey of Tales of Cloth) and snuggle under it while the air conditioning threatens to form icicles on my nose, I still don't know if I fully realize what this quilt has taught me. What I do know is that I'm not disappointed. I don't look back and wish I had gone faster.
I look back and stand amazed that slow and steady really did win the race. I look back and realize how it has shown me, time and time again, that growth is a slow but sure process. Every tiny stitch in this quilt might have felt insignificant at the moment, but over time they added up, and at some point the last stitch was placed, and I wondered how it even happened.
Yet, somewhere along that seemingly aimless journey, I came to realize that I love a regular daily rhythm of stitching in my life. It allays anxiety, sparks creativity, and creates a platform for community. But, it also showed me that stepping back and giving space for things to breathe can be a vital part of the process, not only in stitching and creating, but in life.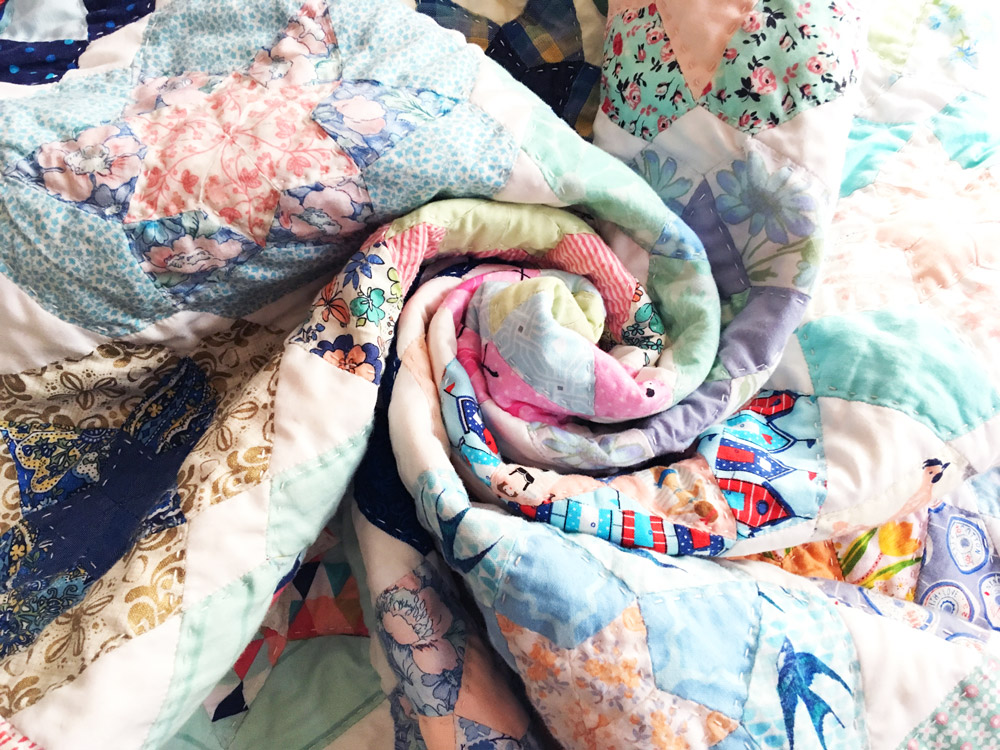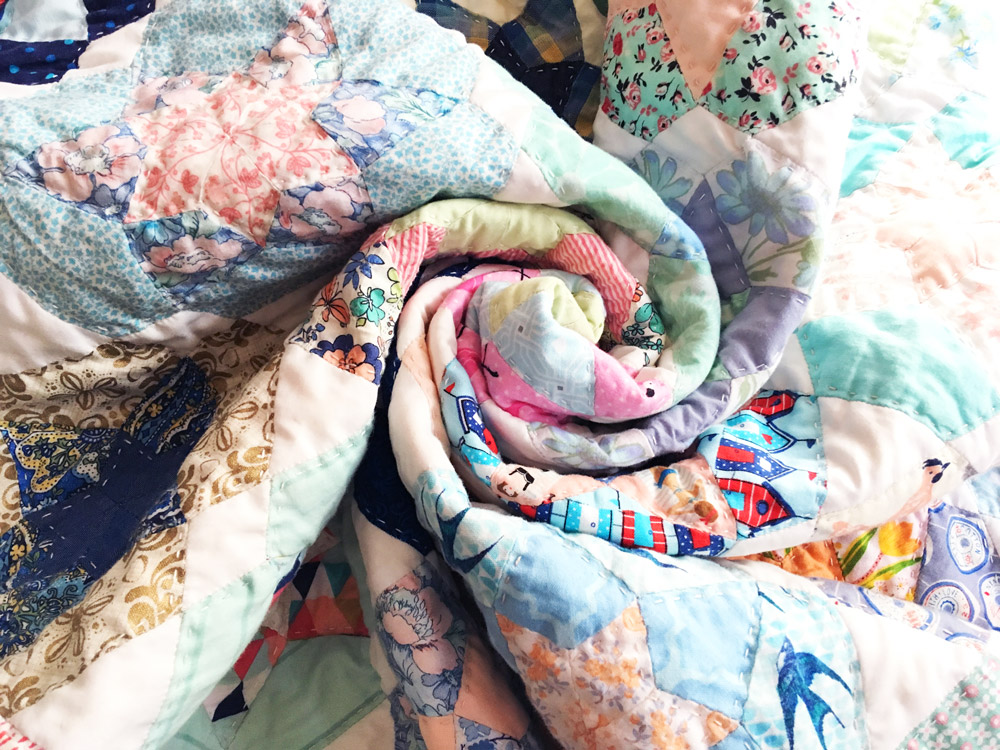 The last few weeks have held very little stitching compared to my typical rhythm. Some days I stitch one little block, other days I baste a whole lot of pieces, and others I do nothing at all.
We have been traveling, visiting friends and family, and finding our footing for this little summer season. I could look at it critically in so many ways, but I'm choosing to let myself be present in all of these moments. So what if my stitching goes on the back burner for a little while? It will be there when I'm ready to pick it up again, and probably with a fresh perspective.
So, if you've read this far, bless you for bearing with my stream of consciousness. If nothing else, I hope that you will be able to look at even one of your WIPs or just one area of your life that has maybe been on hold or feels "neglected," and consider if your perspective might shift.
How could you consider embracing the slowness of things from time to time?
There will always be definite times for action, but with those, there are also times for inaction. Wherever you find yourself today, I hope and pray that you'll give yourself the kindness and grace to move in whichever direction you know deep down you're being nudged in. You might be surprised where it takes you.