As the year draws to a close, and the holidays are just around the corner, I feel especially inspired to clear up my scrap stash. And, with the Sweet Selah Stitchalong in full swing, it seems that I have an extra abundance of festive fabric scraps littering my sewing space. Funny enough, these tiny scraps have been beckoning me to turn them into coasters, so this quilted hexagon coaster pattern was born!
As I mentioned, with the Sweet Selah SAL on my brain, it felt only natural to feature the Sweet Selah quilt's tinier, but older, sister the Selah Pin Cushion. Finishing at the size of a 2" hexagon, the Selah Pin Cushion pattern contains three different design variations in a range of complexity. So, I thought it would be fun to feature each option to see what I could come up with. The result is an incredibly versatile, extremely quick, project that can be featured as everything from coasters to place cards, as well as ornaments or even bunting!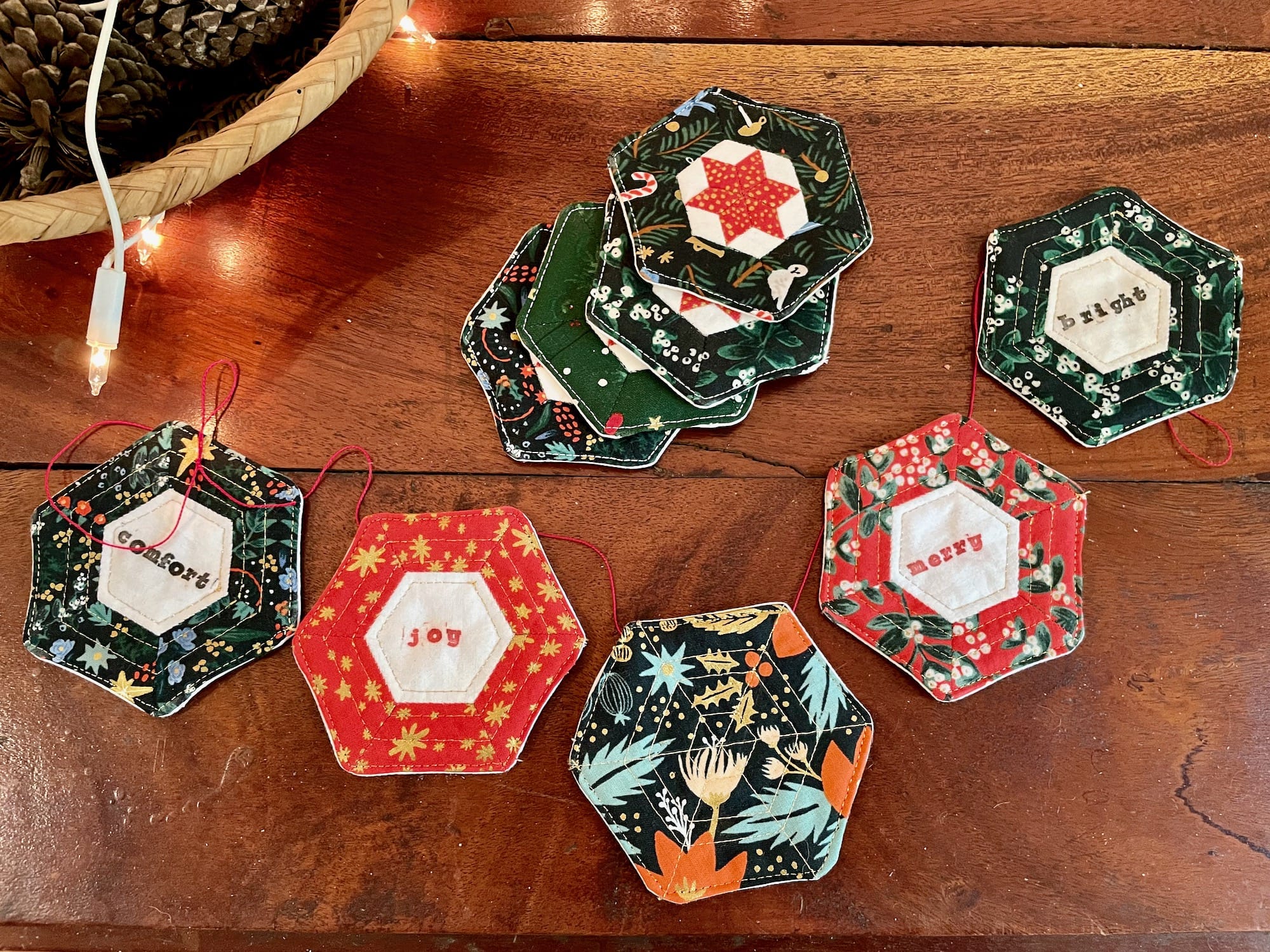 So, if you already have the Selah Pin Cushion pattern, all you need to do is print out the template page and get stitching! If you don't have the Selah Pin Cushion pattern, you can find it in my shop here. Or, if you want to give the basic quilted hexagon coaster pattern a try, you can print out the 2" templates from my FREE hexagon printable here.
Let's get started!
2" hexagon of any design
Scrap of batting at least 5" square
Scrap of fabric at least 5" square for the back of the coaster
Sewing machine
Cutting mat (a rotating cutting mat is ideal, but not necessary)
Quilted Hexagon Instructions
One note before we begin. I have endeavored to create as aesthetically pleasing a layout as possible with this post in order to enhance readability. As such, desktop users will notice that each list of steps is staggered with an alternating text block and image. If the images appear too small at any time, simply click on the image and a full scale version will pop up. 
Read all instructions before beginning.
*If you are using a whole, unpieced 2" hexagon, baste the hexagon like you would for stitching, press, and then remove the paper. The creases will act as guides for step 5. Follow the rest of the instructions as written.
Quilted Hexagon Variations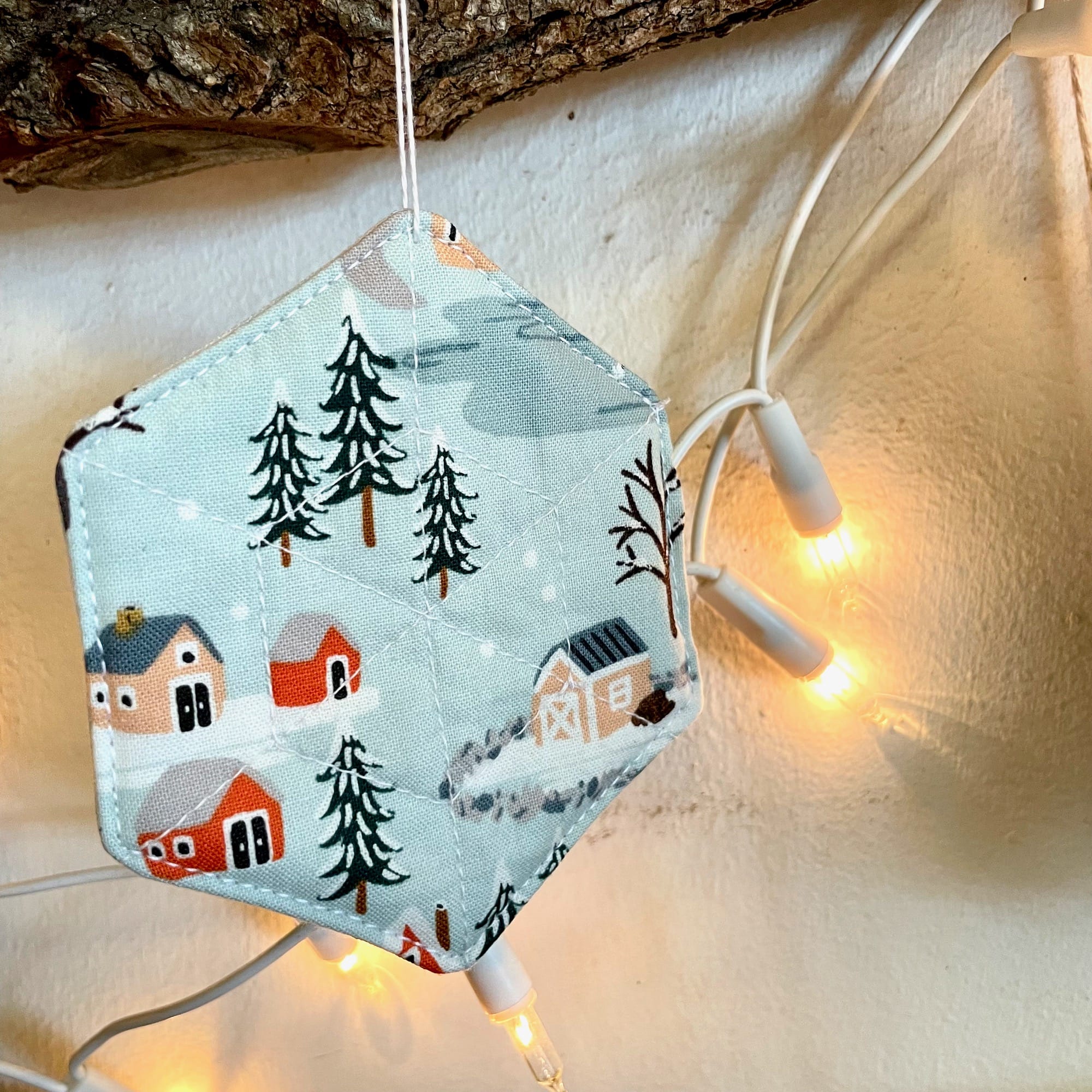 To turn your coaster into an ornament use the following method.
Snowflake Quilting
To create a little bit of a snowflake design with the quilting, use the following method. Mark your lines with a heat erasable or water soluble pen.
Choose Selah Pin Cushion design B, or (1) 1" hexagon and (6) 1" half hexagons, to create a 2" pieced hexagon. Then, stamp the name or a greeting onto the center hexagon using my quilt label tutorial. Finally, follow the instructions as written to turn them into place card coasters.
Wouldn't these place cards be a great way for people to keep track of their drinks after dinner, too?
Place Card Hack
Don't have time for hand stitching? No problem! Create a coaster using a whole, unpieced 2" hexagon, then machine appliqué a stamped 1" hexagon in the middle of the coaster. Using the following process.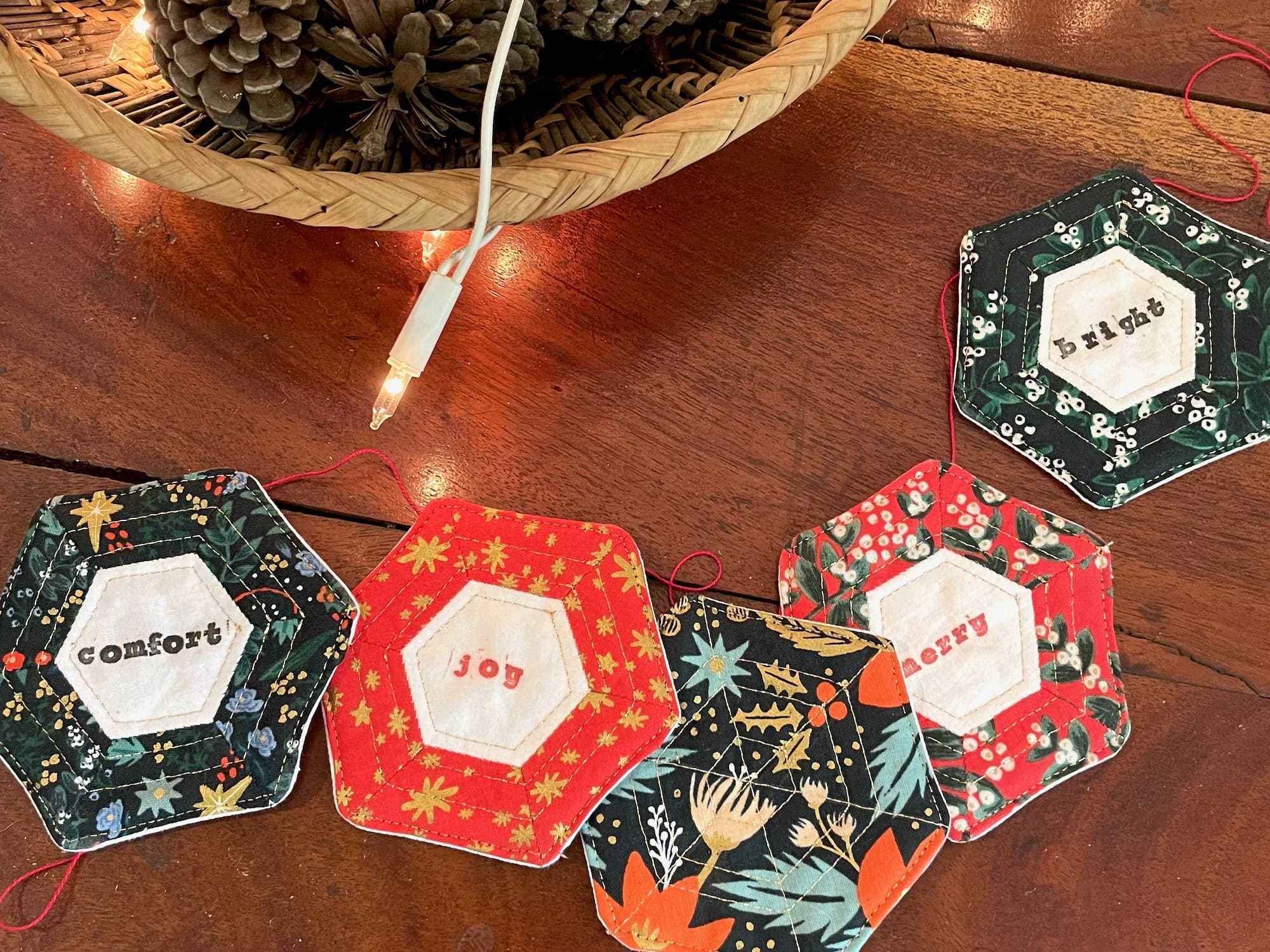 Create a festive bunting for over a doorway or mantle by stringing together a few quilted hexagon coasters. Use the following process, but feel free to customize it any way you want!
Repeat the process until you have added the desired number of coasters to your bunting. Once you have finished stringing them on, trim the rest of the thread, leaving a 10-12" tail.
I hope you enjoy making these quilted hexagon coasters! Wouldn't they make a great hostess gift or grab gift for a holiday get together or party?
If you make some, be sure to tag me on Instagram @stitchingthejourney and use the hashtag #quiltedhexagoncoaster so I can see. Happy sewing!
For future reference, save this handy pin for easy access from Pinterest.