I have really wanted to jump on the quilt coat bandwagon. Wearing a quilt? Yes please! But, alas, I'm not a garment sewist, and though I could likely figure it out with all of the patterns and tutorials out there, I just keep putting it off. 
BUT. A quilted scarf? That, I can handle. Also, I don't know about you, but I can never have enough scarves. AND, with this simple design that can easily be constructed in an afternoon, I have a feeling that several quilted scarves will be making their way as gifts to friends and family this Christmas… 
So, if you're like me and want a wearable quilted garment but either don't have the skill set (yet) or time to make a quilt coat, here is a quick and easy tutorial for making a quilted scarf!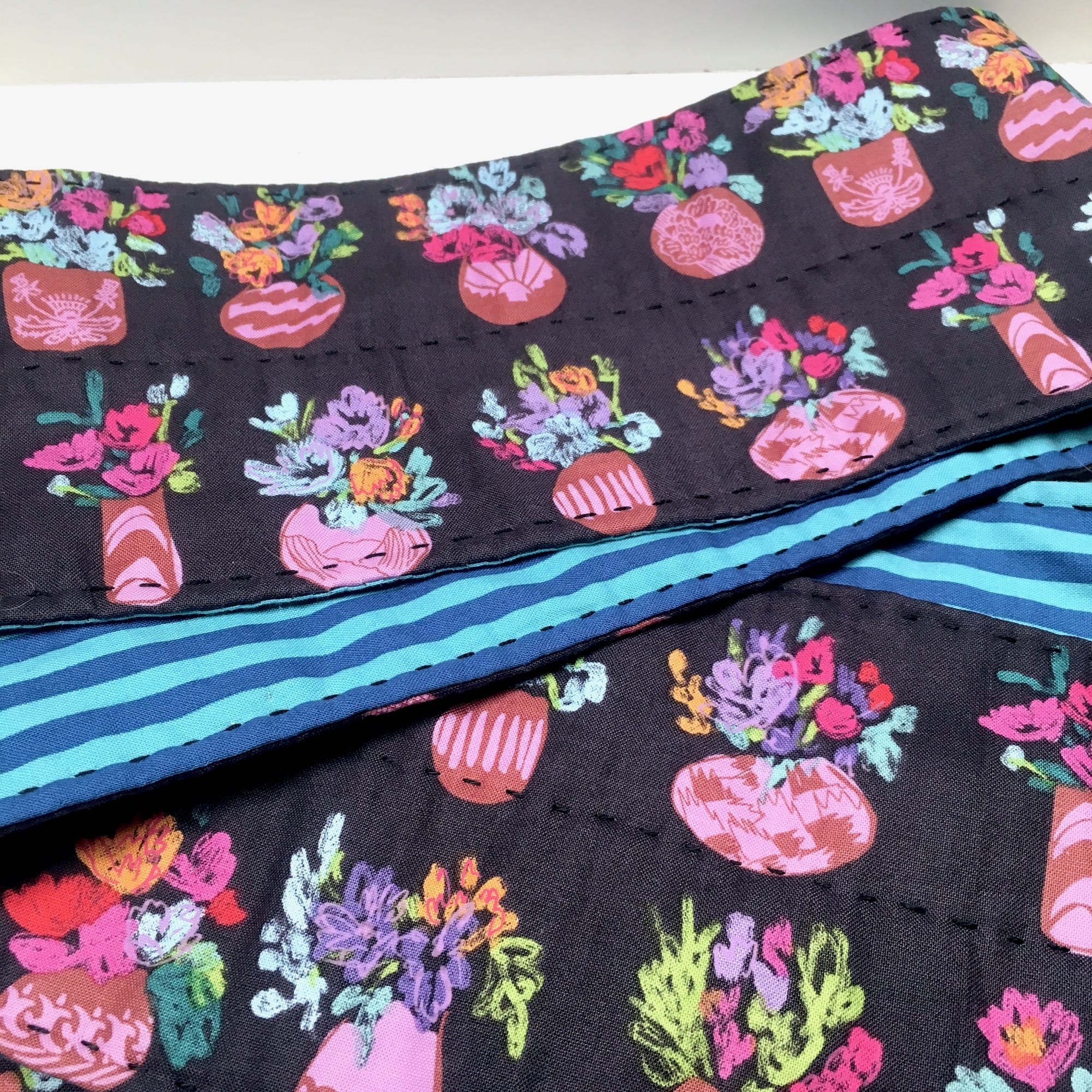 1/2 yd each of two coordinating fabrics (this is a great way to show off some of those larger scale prints that we all love!)
Scrap strip of batting roughly 8" x 84" (this is a great way to use up some of those long strips of batting that get cut off from around your quilt when you trim it after quilting)
Sewing machine

 

Pins
Thread

 

Quilt ruler, rotary cutter, and cutting mat
This tutorial is fully customizable for length and width. I've chosen my dimensions either because of the scale of the print or out of simplicity. Feel free to modify accordingly! 
One last thing before we begin. I have endeavored to create as aesthetically pleasing a layout as possible with this post in order to enhance readability. As such, desktop users will notice that the list of steps is staggered with an alternating text block and image. If the images appear too small at any time, simply click on the image and a full scale version will pop up. 
Personally, I hand quilted mine. (Check out my Hand Quilting HQ tutorial series here! It covers everything from choosing a quilt motif to basting to how to hand quilt.) But, I think machine quilting or even kantha stitching would look wonderful, as well!
Enjoy your quilted scarf!
I hope you enjoy your quilted scarf! I'd love to see what you make, so feel free to tag me @stitchingthejourney on Instagram and use the hashtag #quiltedscarf. Happy sewing!
Don't forget that you can always pin this post to Pinterest for easy access later.