To every stitch, there is a season. And, maybe to every season there is a stitch? I've been thinking a lot lately about stitches. I started my "stitching" journey, so I thought, when I picked up English paper piecing (EPP) about 7 years ago. But, really, it started at just 7 years old when my grandmother, Nana, taught me how to crochet.
I haven't thought about crochet as part of my stitching journey until recently. Perhaps because when you're a child you don't think about things so existentially. So, only now, 30 years later, have I fully realized that crochet is made up of stitches. (Profound, right?)
However, crochet stitches are rather different from whip stitches or cross stitches or back stitches.
It's this difference that dawned on me recently. It was this difference, and also a favorite Bible verse that echoes the title of this post.
"To everything there is a season, a time for every purpose under heaven." (Ecc. 3:1 NKJV)
A Stitch for Every Season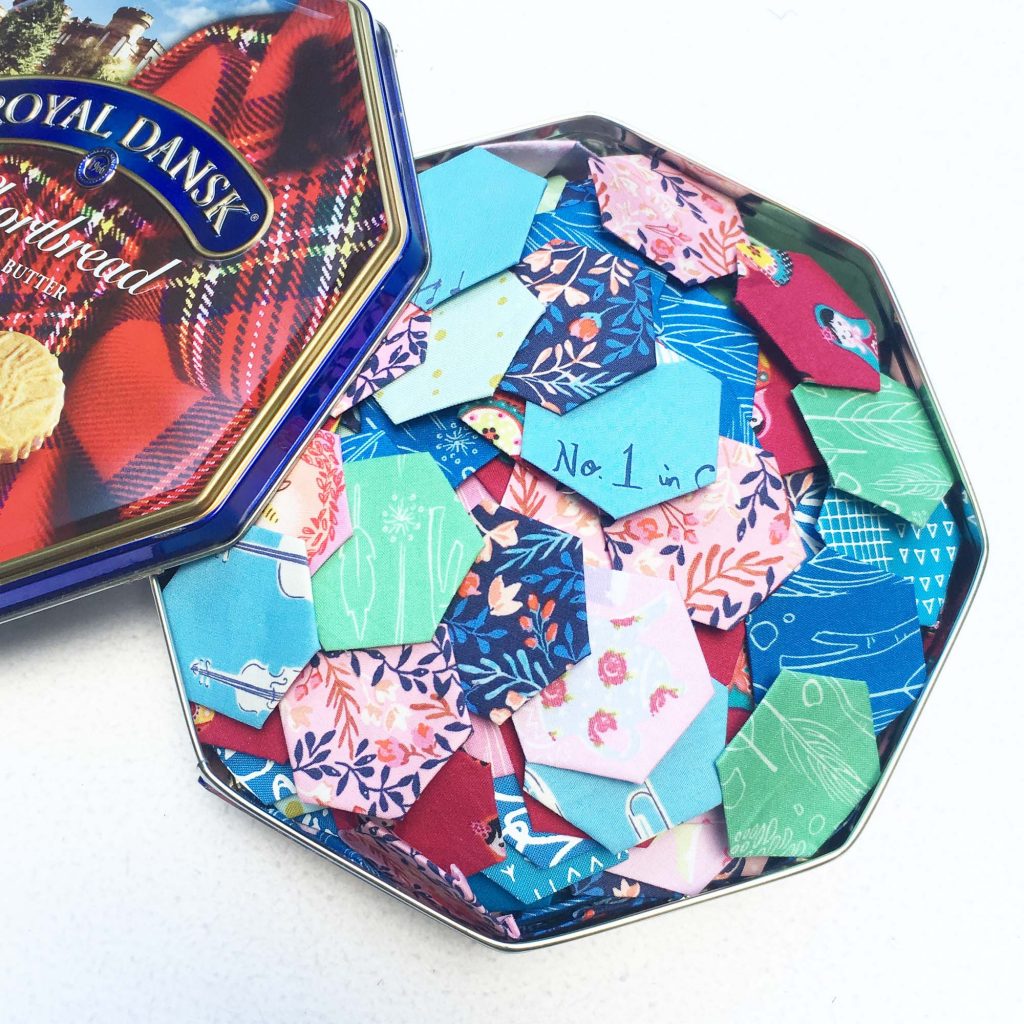 When I picked up EPP, I was in a season when my life felt like it was in pieces. Moving to Malawi, then to the US, then back to Malawi. The tumult made me feel like I was in some kind of spin cycle in the washing machine. I ached for some kind of purpose for all of the tattered pieces of my life.
English paper piecing, also known simply as patchwork, served as an allegory for my life. Taking scraps of fabric, giving them structure and design, and finally piecing them together to make something exquisite, grounded me when not much else did.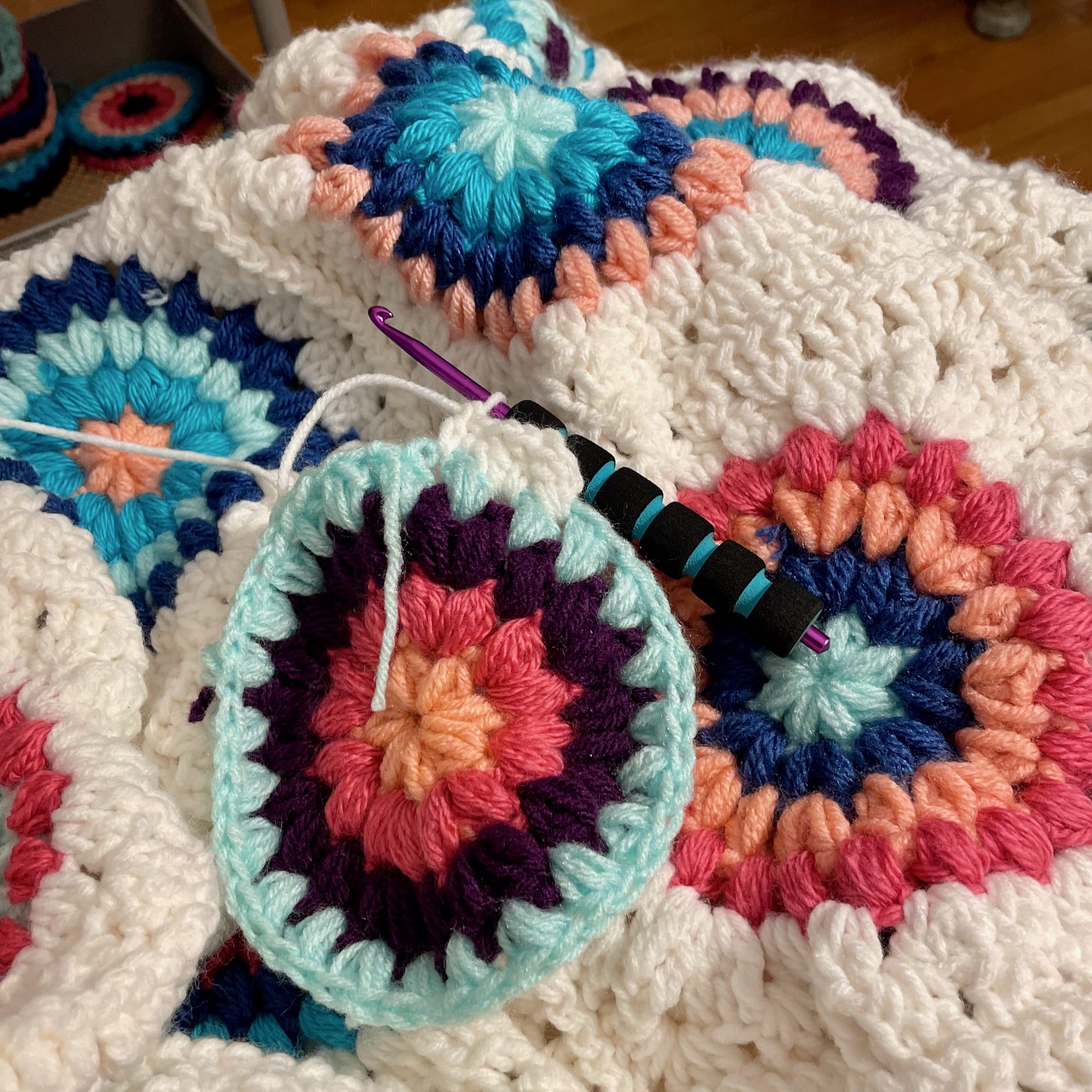 Fast forward to today, and the season of my life also feels adrift, but less piecemeal. It feels more like a pilgrimage into a familiar unknown. I am living in a place that feels eerily familiar, but I am an alien in it. The strangeness lays in the fact that I've brought the version of myself that emerged in Malawi to this new place, and she doesn't know how to exist here yet.
Somehow, crochet feels like the more accurate allegory this time. A looping and twirling, dipping and winding, weaving my new self into the fiber of this new life.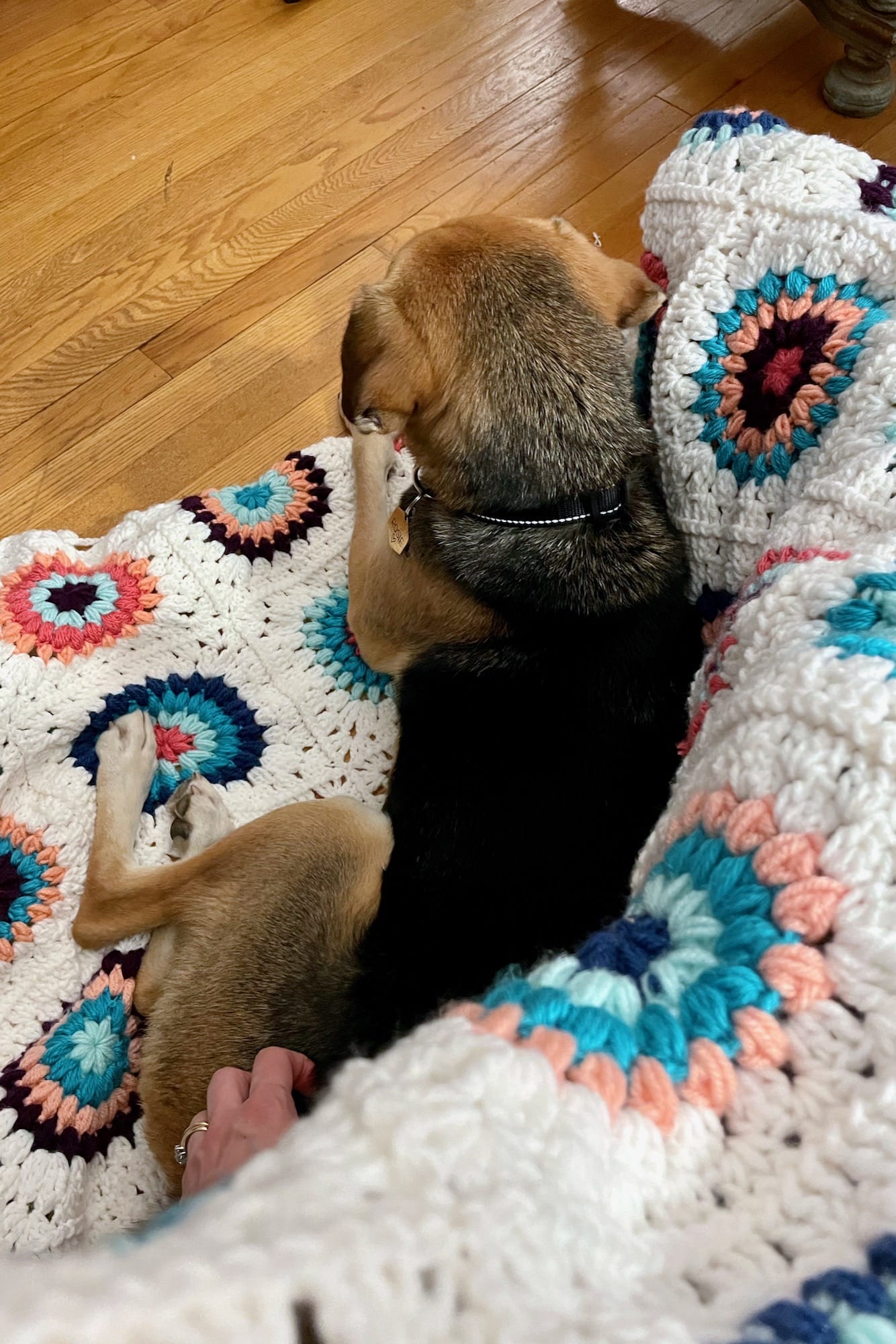 A Season for Every Stitch
Maybe I'm reading too much into all of this, but I find comfort in imagining that different stitches could be right for different seasons, and that there is a purpose to every season. What I know is that I needed to pick up crochet when we arrived back in this foreign familiar land. And, I have flung myself into it with all of the fervor of EPP over the past few months. In fact, I have returned to crochet with all of the knowledge of slow stitching that EPP has taught me.
So, rather than burning out like I used to with crochet projects (unless I had a deadline), I have paused and noticed what makes me love it. Oddly, it's the same thing I love about EPP: building something one stitch, one seam, and one block at a time.
I discovered that I prefer block based crochet blanket patterns much more than row based ones. I learned that my color palette is largely the same whether quilting or crocheting. And, perhaps most dangerous of all, I discovered natural fiber/hand-dyed yarns…
In a season where so much feels overwhelming, I have taken comfort in reaching back into the past and bringing something I once loved into the present with renewed perspective and vigor. I can only hope to figure out how to do that in other spheres of our lives here.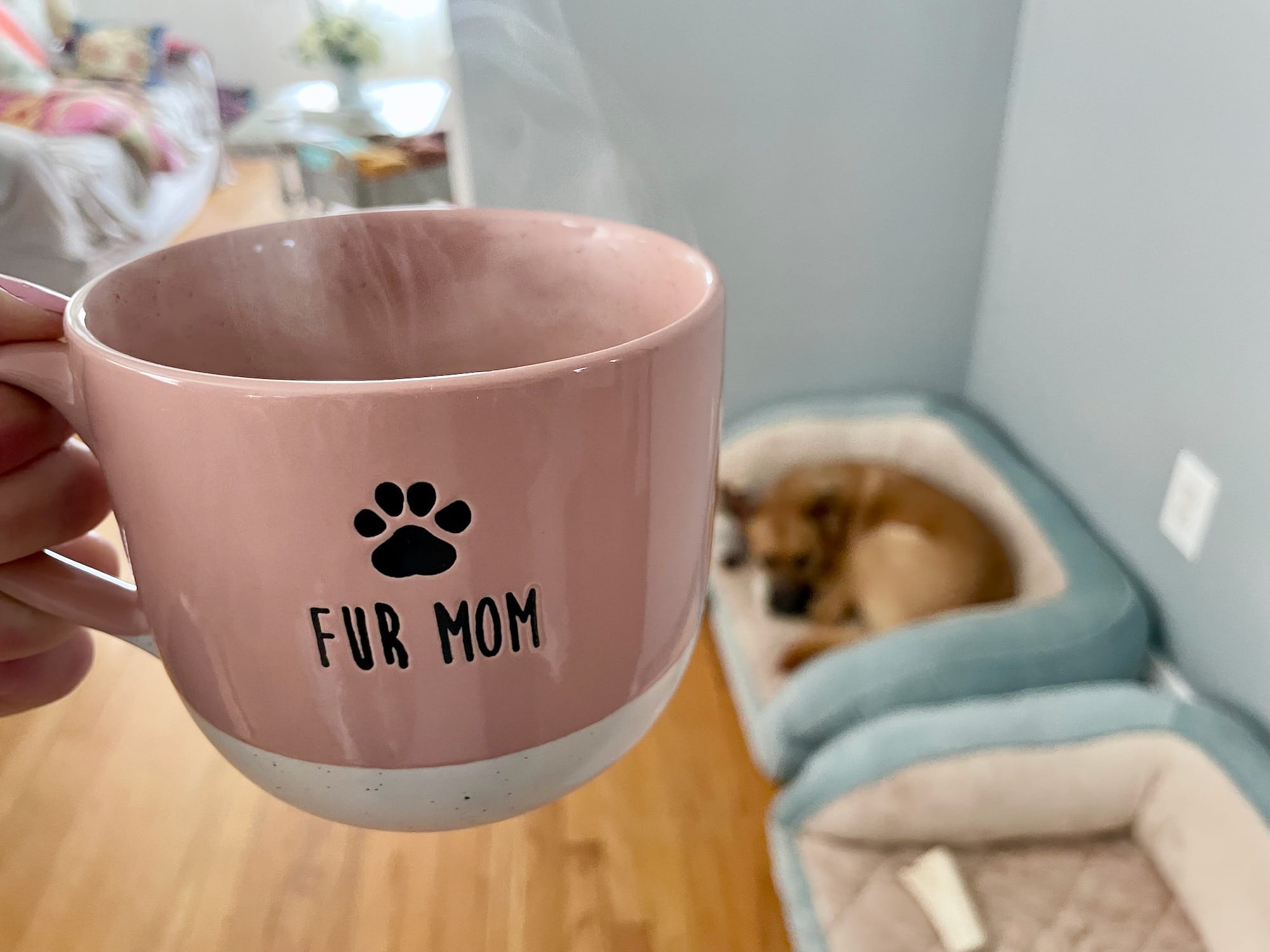 A Little Recap of This Season's Stitches
If you already subscribe to my monthly newsletter, then you know about this recent revelation already. If you don't, you can come along on this stitching journey with us by subscribing below. But, I thought it would be fun to log some of my recent crocheted projects here in a more permanent place.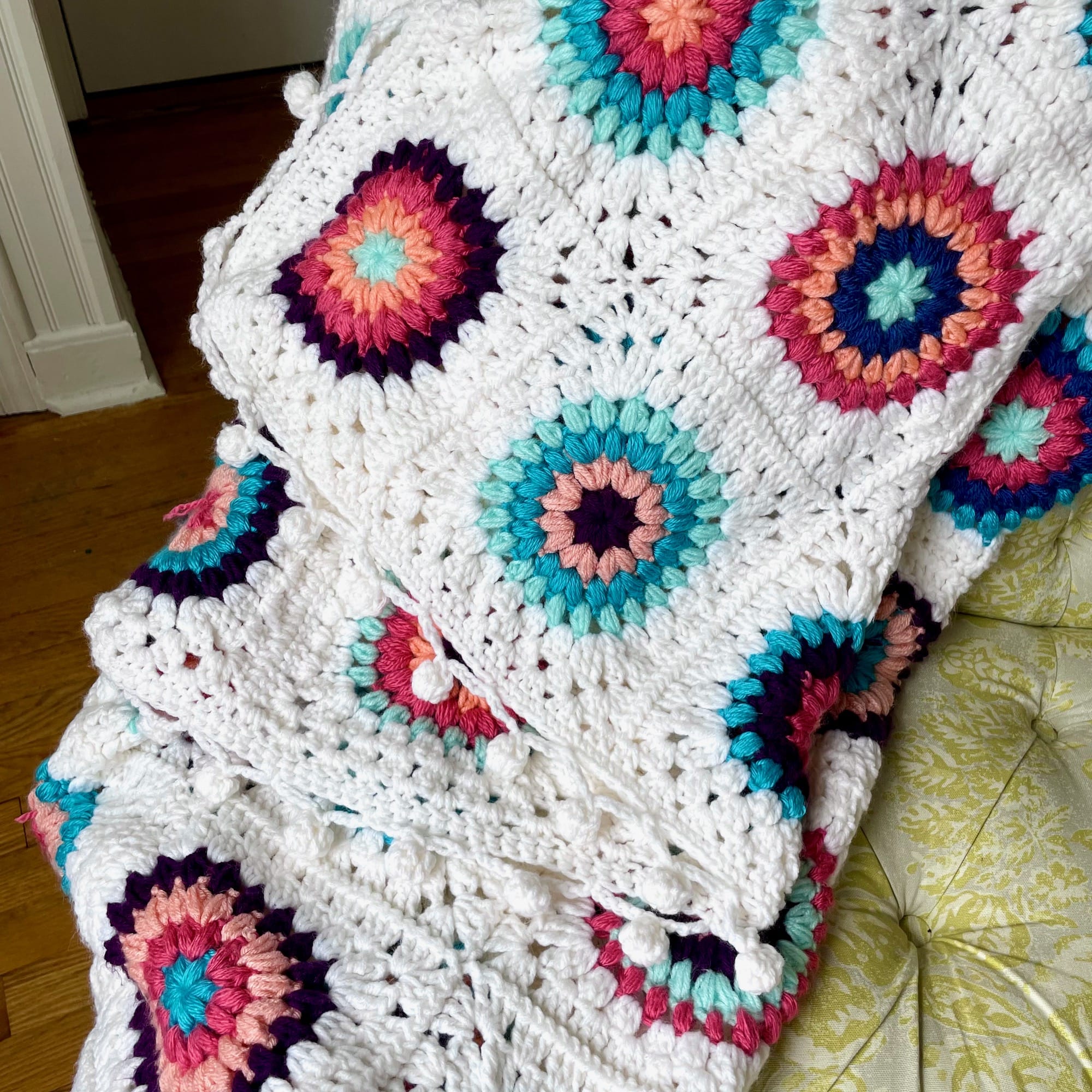 Mia Granny Crocheted Blanket
When we first moved back, this was the first blanket I picked up, using lots of scraps from my stash. I loved that Bonnie had a tutorial for using different weights of yarn to create these gloriously squishy puff circles that work up in to a classic granny square. I fell in love with them, and made a MASSIVE afghan out of them! And, because I loved the pop of whimsy the pom pom border by Mallory of NautiKrall added, I chose to finish it off that way.
Yarn: various acrylic yarns from my stash
Pattern: Mia Granny Blanket by Bonnie of Green Letter Day
Pom pom border: free video tutorial by Mallory of NautiKrall Crochet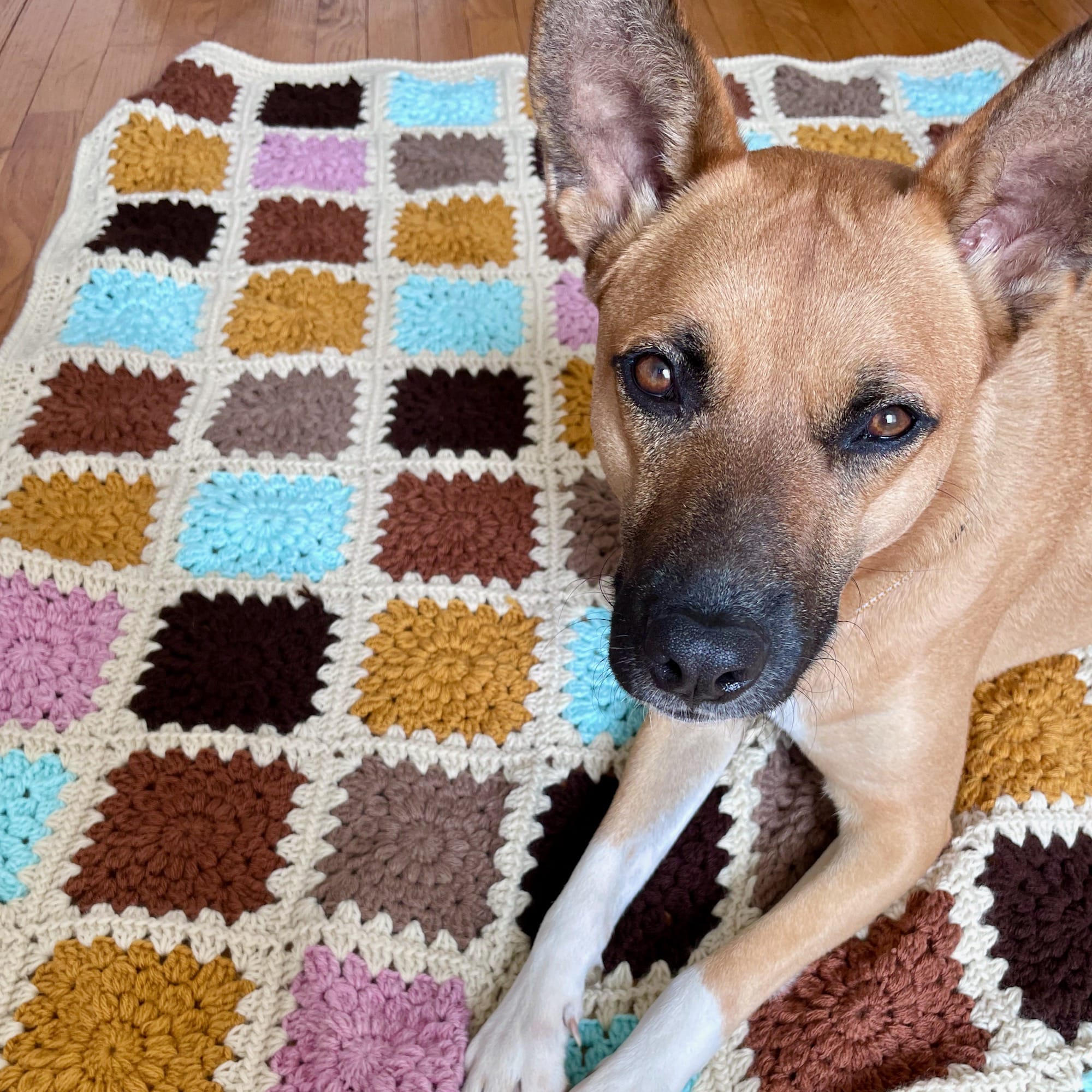 Hygge Burst Crocheted Blanket
And, once I got to "know" Mallory, I had a burst of inspiration to make a coffee themed blanket with some more yarn from my stash. Ranging in color from latte to espresso and featuring splashes of cafe blush and mint, this blanket is my favorite go to with my morning coffee.
Yarn: various acrylic yarns from my stash
Pattern: Free Hygge Burst Blanket by Mallory of NautiKrall Crochet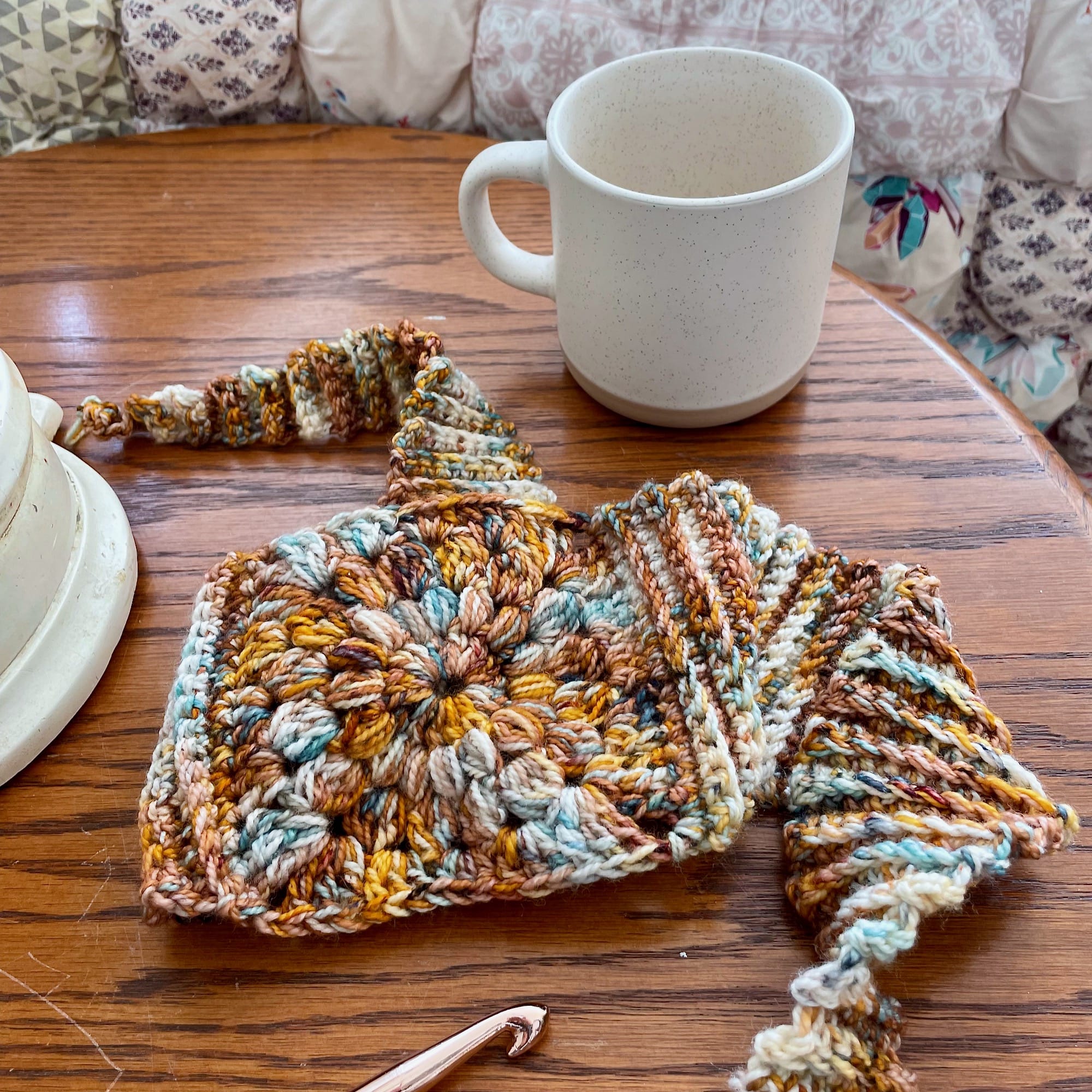 And, because Mallory released a sunburst granny square based scarf pattern while "spring" was still acting like winter, I just had to crochet one! I love that it allowed me to use some yarn I mistakenly purchased too little of, but now happily serves a functional, cozy purpose.
Yarn: 75/25 Merino Wool/Nylon blend, sock weight in color "Toasted" by Hue Loco, held double per pattern instructions
Pattern: French Sunburst Scarf by Mallory of NautiKrall Crochet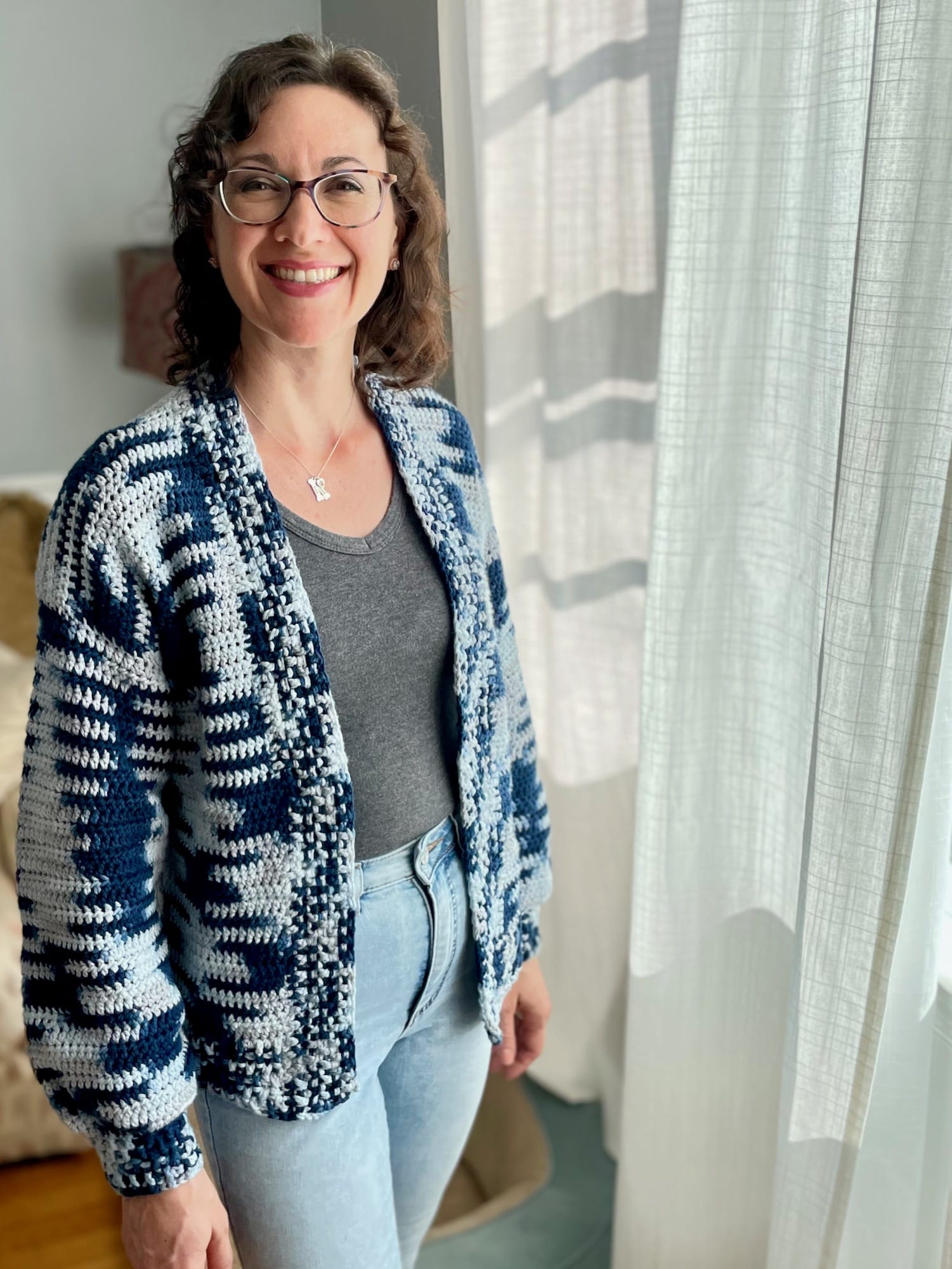 Crochet Everyday Cotton Cardigan
Then, I got caught in the rabbit hole of Pinterest and discovered crocheted clothing. I am starting a new wardrobe on a budget, and thrift stores only offer so much style. However, I discovered a few cute cardigans that I figured I'd give a try. I decided to make a "wearable muslin" with some cotton yarn I had on hand, and I think she has potential! I'm excited to start working on one in a cotton bamboo blend for the summer.
Yarn: 100% cotton yarn from my stash
Pattern: Crochet Everyday Cotton Cardigan by Ashleigh of Sewrella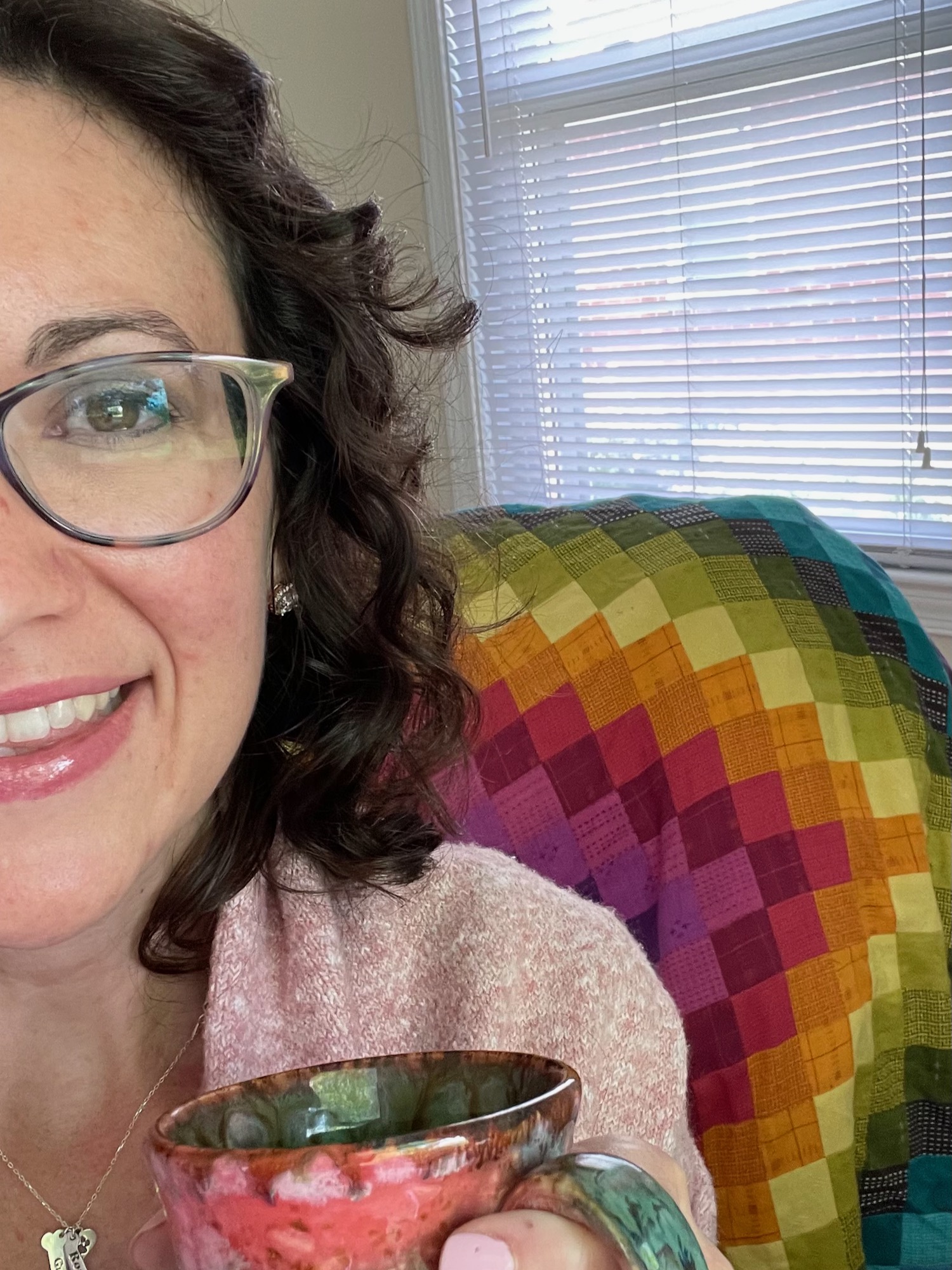 Do you have stitch seasons?
So, tell me, do you gravitate towards different stitches depending on the season? Have you had certain stitches mirror certain seasons of your life? I'd love to hear your stories in the comments. Happy stitching, whatever it may be!