This was probably the laziest "Me Made May" in history, but it was my first time even really attempting to accomplish anything during it. So, even though I still have several projects in mind, and one currently on my crochet hook, I'm choosing to appreciate the fact that I have successfully created wearable items with my own two hands. And, that in itself is worth celebrating.
So, even though I've shared some of these over the last few weeks in newsletters and social media, I thought I'd give them a proper blog post of their own. Hopefully, there will be more posts in the future with new and different makes coming soon.
Me Made May Wearables in Order of Completion
I had to laugh when I sat down to write this blog post because while I have several other patterns in the works, the only two wearables I actually finished during the month of May are simply repeats of each other… Still, they are each their own project, and each have their own unique place in my wardrobe. So, wins either way!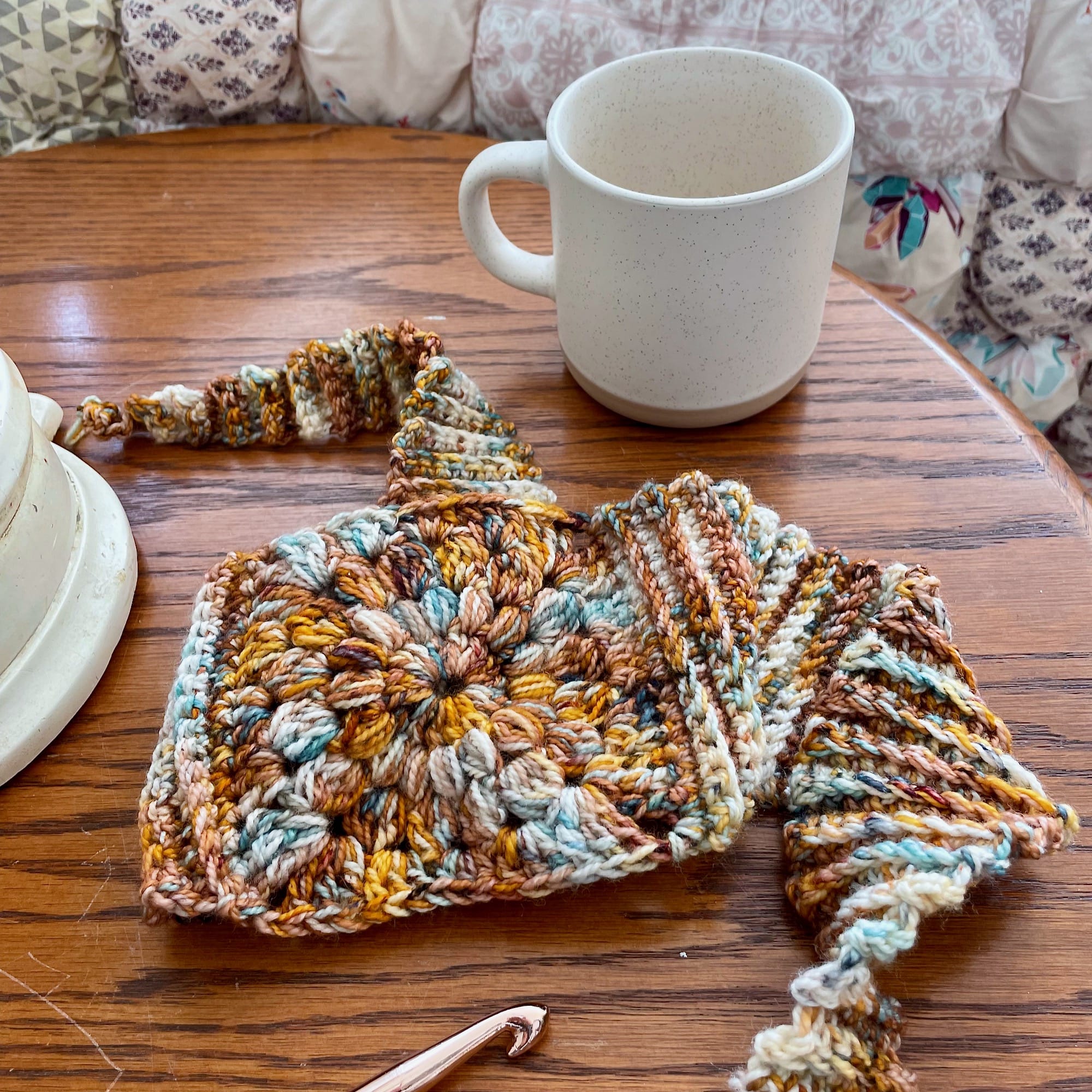 Me Made May Make 01: French Sunburst Scarf in "Toasted"
While this little guy technically got finished at the end of April, I'm throwing it in the mix because it was the wearable that got me excited to attempt Me Made May in the first place. Not to mention it was the first scarf I've crocheted since college, and it felt so much faster than scarf making used to feel. Crocheted with a lovely wool/nylon blend from Hue Loco, this delightful scarf came together in an evening!
It's considered a "French" style scarf that simply wraps around your neck, perfect for the chilly mornings we've had this spring. It features a fun sunburst granny square in the center then simply tapers to the end with gentle ribbing. Not to mention, this color way is so restful and cozy, and I feel so fancy wearing it.
Yarn: Merino wool blend in sock/fingering weight, in color "Toasted" by Hue Loco, held double per pattern instructions
Pattern: French Sunburst Scarf by Mallory of NautiKrall Crochet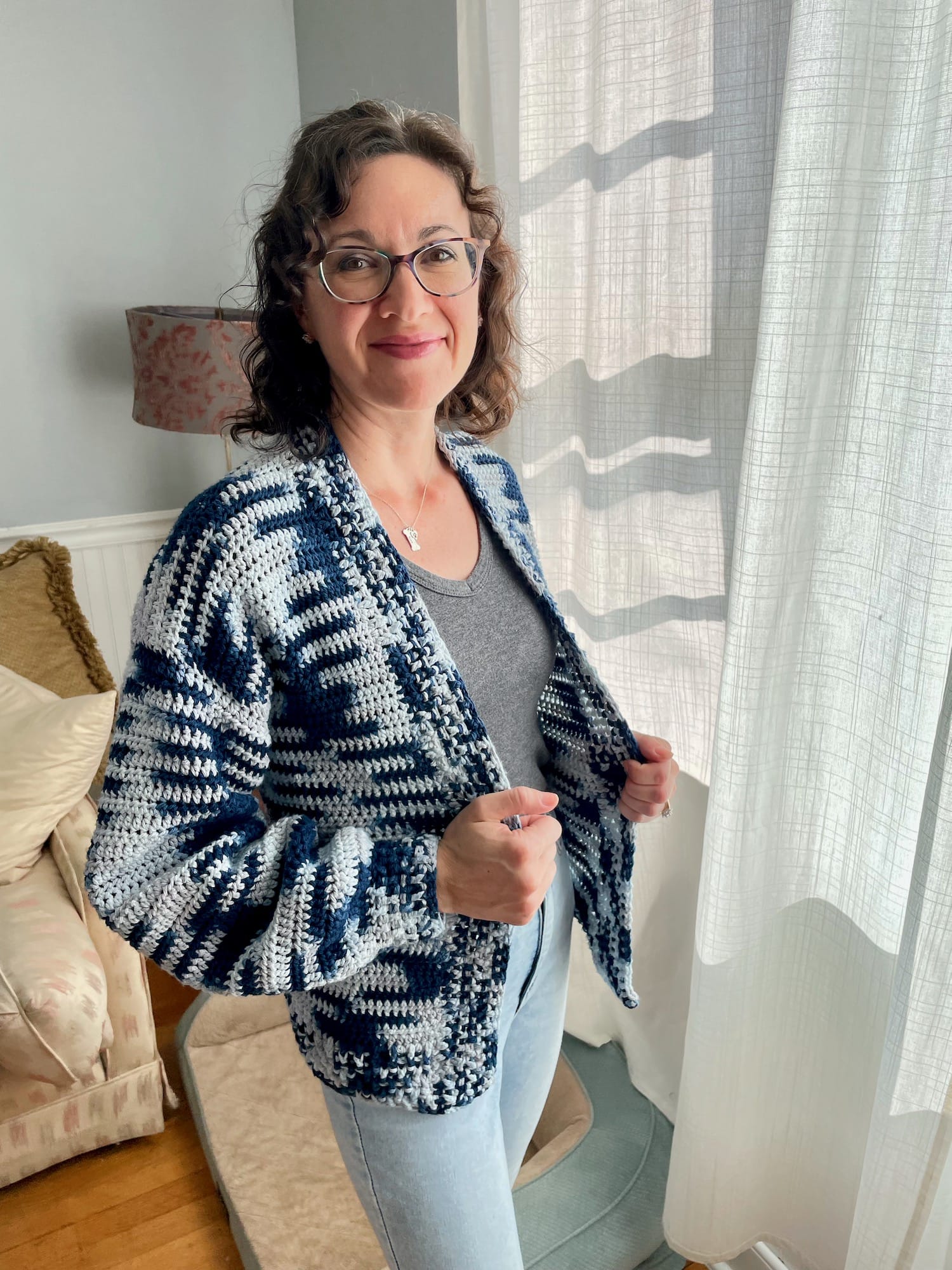 Me Made May Make 02: Crochet Everyday Cotton Cardigan as a Wearable Muslin
I've taken exactly one garment making class which was really only a how-to in measuring yourself and tracing/cutting a pattern onto fabric. I remember next to nothing from that class, except for the term "wearable muslin." This term is meant for the trial run of a pattern before using the "good stuff" for the actual garment you want to make.
I took a little bit of artistic license with this cardigan, calling it a wearable muslin because I just found whatever cotton yarn I had in my stash and went for it. And, even though I misunderstood the instructions for the hemline/ribbing, I'm happy to say that the result is far better than I expected!
While I wouldn't necessarily choose such a high contrast variegated yarn for a typical wardrobe piece, it's perfect for hanging out around the house on chilly evenings. It reminds me of a tie-dyed sweatshirt from summer camp, only fancier.
Can I also just take a moment to bask in the fact I actually made a cardigan?? I'm still in awe, but this little beauty won't be the last! I may have been bit by the crochet garment bug…
Yarn: Bernat Handicrafter Cotton in "Cool Grey Ombre"
Pattern: FREE Crochet Everyday Cotton Cardigan by Ashleigh Kiser of Sewrella Yarn, when she was blogging at Sewrella
Me Made May Make 03: French Sunburst Scarf in "Mood Ring"
I loved making the previous scarf so much, I used the exact same pattern, but this one is so much more playful because of the color! It also feels rather "on brand" for the vibrant, high contrast color palette I typically go to. As, a result, I've dubbed it my "studio" scarf. I only wear it when I'm in my stitching studio, and it feels like that special pair of sneakers you had to have as a kid because they were sure to make you run faster if you wore them. I feel so much more creative when I wear this little lovely!
Yarn: Merino wool blend in DK weight, in color "Mood Ring" by Hue Loco
Pattern: French Sunburst Scarf by Mallory of NautiKrall Crochet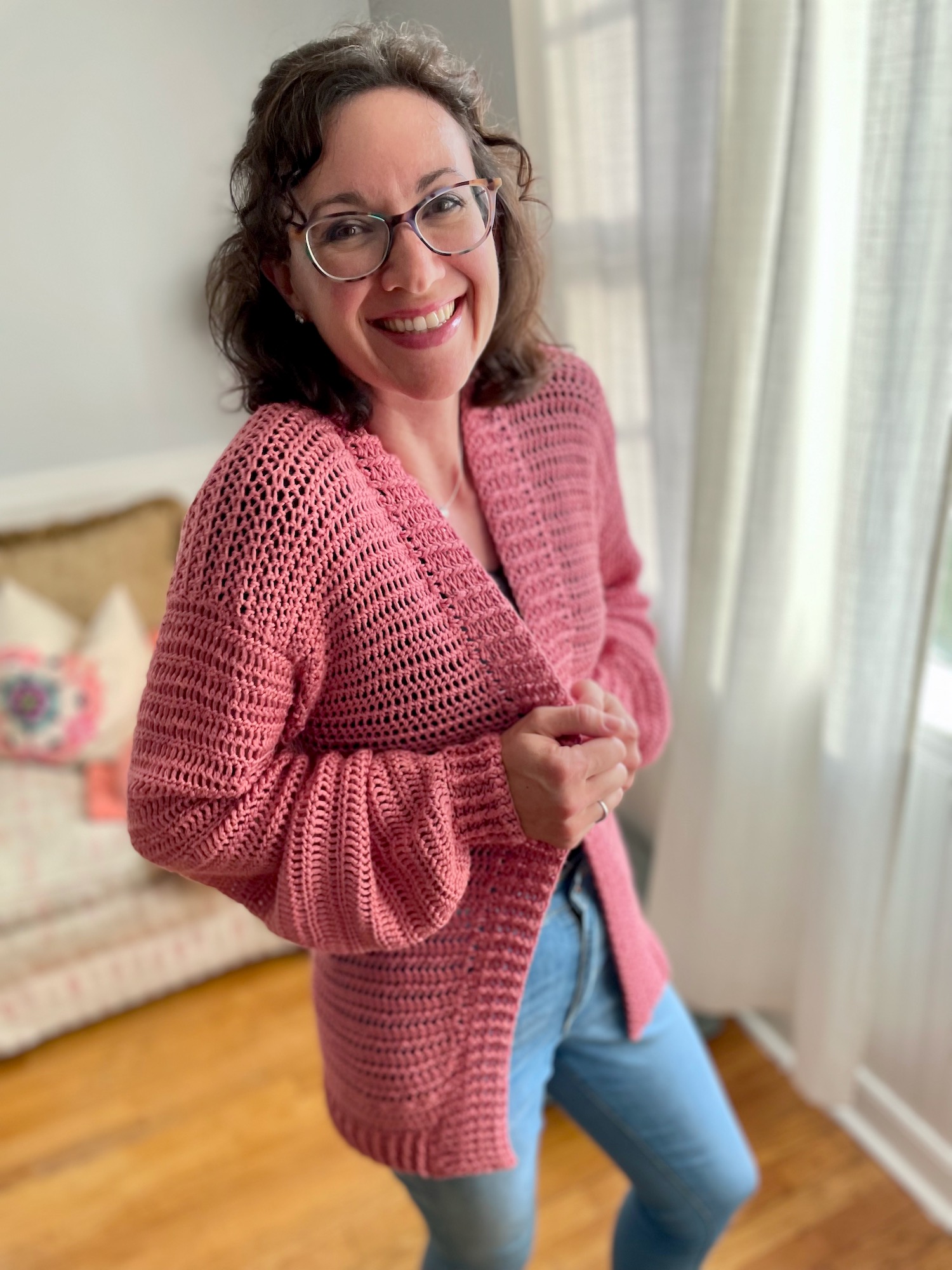 Me Made May Make 04: Crochet Everyday Cotton Cardigan Made with the "Good Stuff"
This beauty just came off my hook a few days ago, and I am in LOVE with the color, the softness, and the gentle texture of the half double crochets throughout. One main reason I repeated this pattern after making the "wearable muslin" version is that I absolutely loved working row after row of half double crochet. I'm not a huge fan of single crochet or even double crochet (apart from granny stitch), but half double crochet feels as easy and fast as single crochet but with a little extra panache.
A few pattern notes:
I sized down because my gauge was a little bit big, but in hindsight I think I could have gone true to size.
In the future, if I made another with this particular yarn, I would shorten the sleeves by a few rows. I love a balloon sleeve, but this is just a smidge long for my liking.
I did soak it to block it but then threw it in the dryer on low, per the yarn label instructions, and I'm so glad I did because it helped shorten the overall length just enough. 
I can see this cardigan getting a lot of use this summer as the yarn is a cotton bamboo blend that has the most wonderful drape. Here's to more cardigan making in the future!
Yarn: Lion Brand Coboo cotton/bamboo blend in color "Terracotta"
Pattern: FREE Crochet Everyday Cotton Cardigan by Ashleigh Kiser of Sewrella Yarn, when she was blogging at Sewrella
Well, that's it for my little Me Made May roundup! Here's hoping that this year won't be my last for sharing wearable makes, and this post hopefully won't be the last featuring a crocheted garment or two!
As a little sidebar, I've yet to give knitting a try, but it seems to get all of the garment love. Have you ever made a crocheted garment? If so, do you have a favorite pattern? I'd love to hear!