Have you ever just needed a hug? And, someone just knew you needed a hug right then and there? I have. And, while this story isn't just about receiving a hug, it's about giving one—when I couldn't.
A little spoiler alert before you continue: this post touches on infertility. If that hits a little too close to home, you're welcome to read on or not. Either way, I understand, and I see you. 
A few months ago, I had already stitched up the cover quilt top for the pattern, but I suddenly had this strong urge in my heart to make a quilt for a friend. And, not just any friend, a quilty friend. We were friends before either of us picked up a needle or took a single stitch, but in the car on the way home from the airport one afternoon our paths intersected, and I had the privilege of introducing this friend to the wonderful world of sewing.
She ran with it! She opened a fabric shop and designed beginner friendly patterns. Then life happened. As it does. She had to step away from it all, and focus on the things around her at the time. It's been a few years since then, and, in the midst of it all, a global pandemic happened.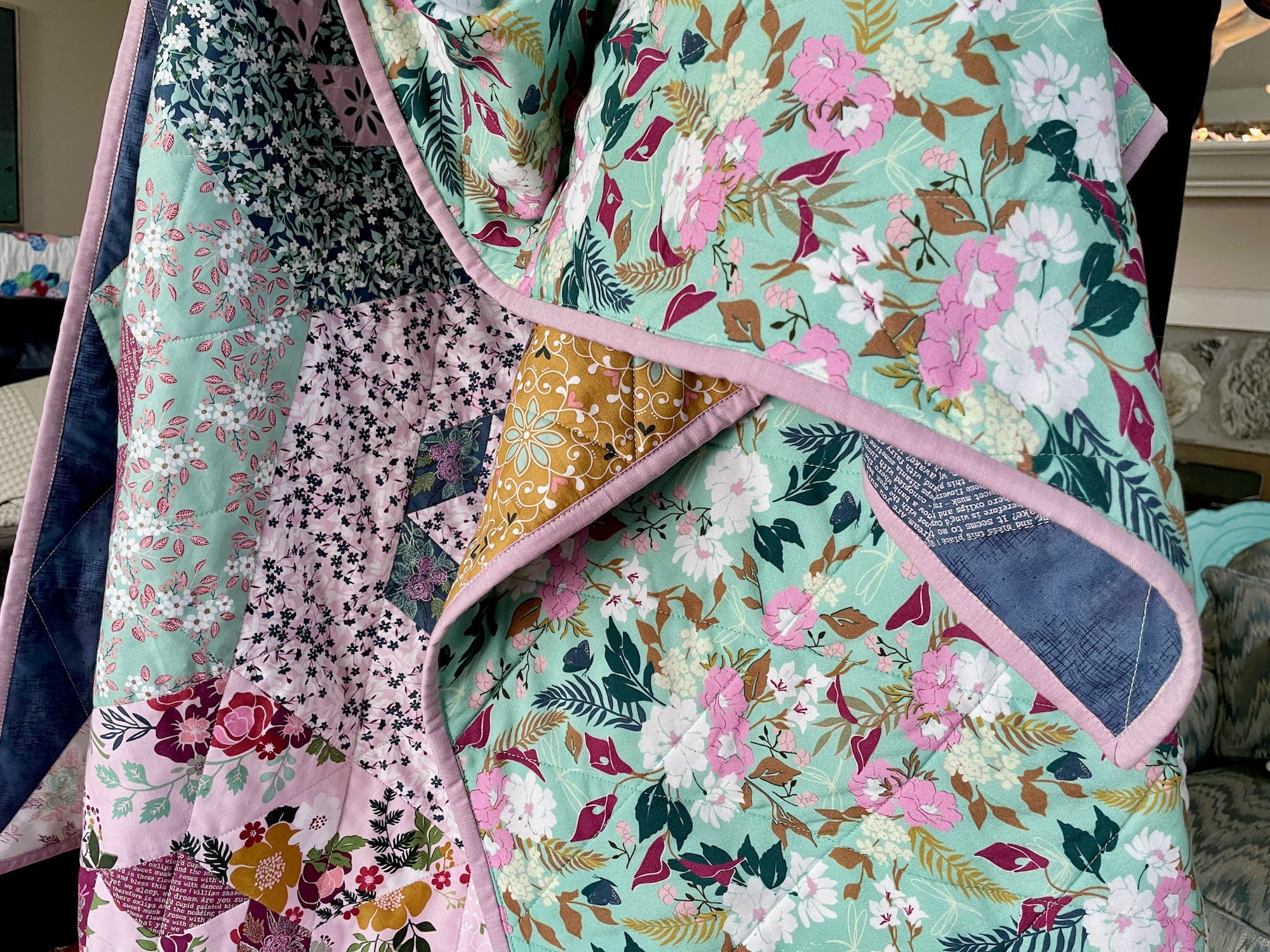 Meanwhile, in my little corner of the globe, a few life things hit pretty hard. And, it was to this friend that I turned when they did. Though our journeys have been different, they have had more than stitching in common: we have both faced infertility. I haven't shared this publicly before, and I don't need to go in to all of the details. Everyone who faces it experiences it a bit differently, and yet there was a similar ache and grief that we both felt. Her friendship was that hug I needed in those early days.
Since that time, it's been on my heart to not only express my gratitude, but to offer a hug in return as a bit of the condolence I didn't know how to offer when she was going through the same experience. It all seemed to culminate in the making of a quilt. What better way to hug a quilter than by making them a quilt?
How could I hug her back?
So, I set to work brainstorming fabric lines and color palettes. I landed on a line by Keera Job for Riley Blake Designs called "Whimsical Romance." The denim blues, rich burgundies, soft pinks, and fresh aquas jumped out at me. It had such a timeless color palette, and the designs and motifs themselves were unique and modern. It was perfect.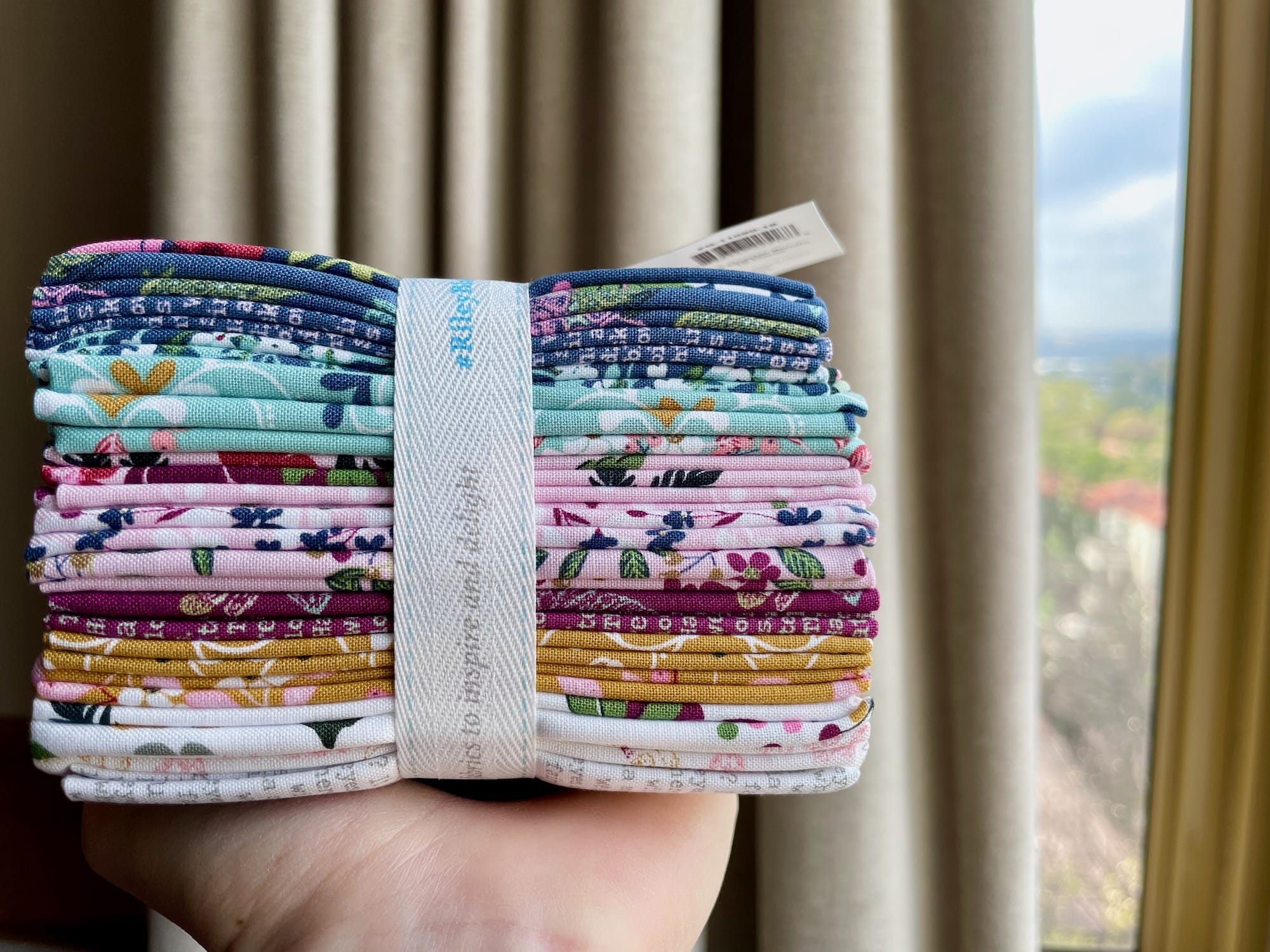 The not so perfect thing? I had no access to that fabric from way over here in Malawi. I had no access, that is, until my in laws decided that they were going to come for a visit. I scoured the internet for a shop that sold it, and had it shipped to my in laws. A short month later it was in my hands.
The only problem? We were due to travel for the next three months. It seemed impossible to make an entire English paper pieced (EPP) quilt in three months, but then so did sourcing the fabric. Yet, there it was on my sewing table.
The Makings of a Quilted Hug
So, at every stop along the way on our trip I set to work. I used hotel room irons and ironing boards to prep my fabric. The coffee table at an Air BnB was my basting station. Over a dozen flights offered plenty of stitching time.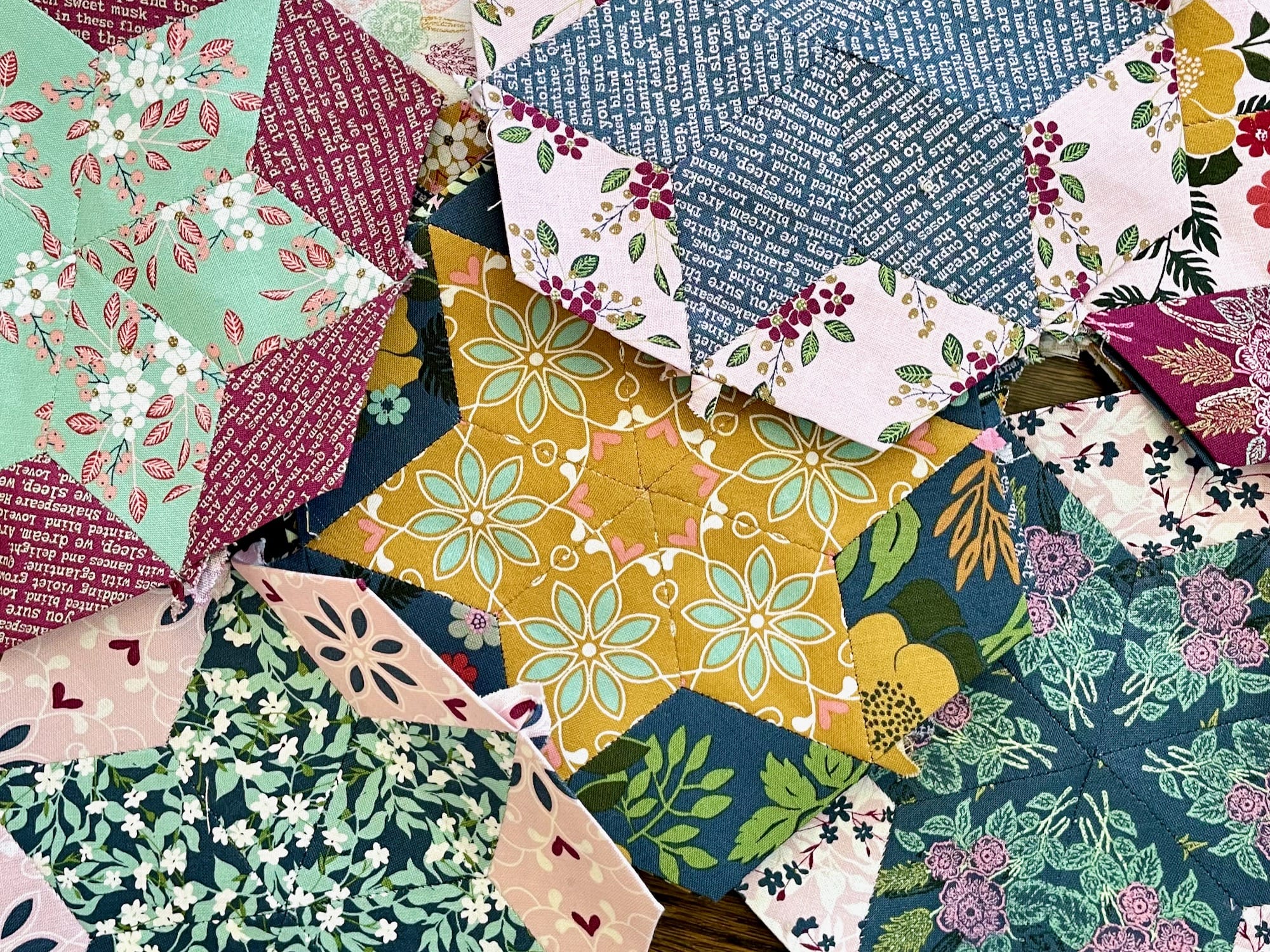 I took the final stitches on my mom's back porch while quarantined with COVID (for the second time). Her living room floor offered ample space to baste the quilt sandwich, and she kindly offered me sole use of her sewing machine over a long weekend so that I could finish it. Just days before I was due to fly back to Malawi, the quilt was washed, labeled, photographed, and shipped to my friend.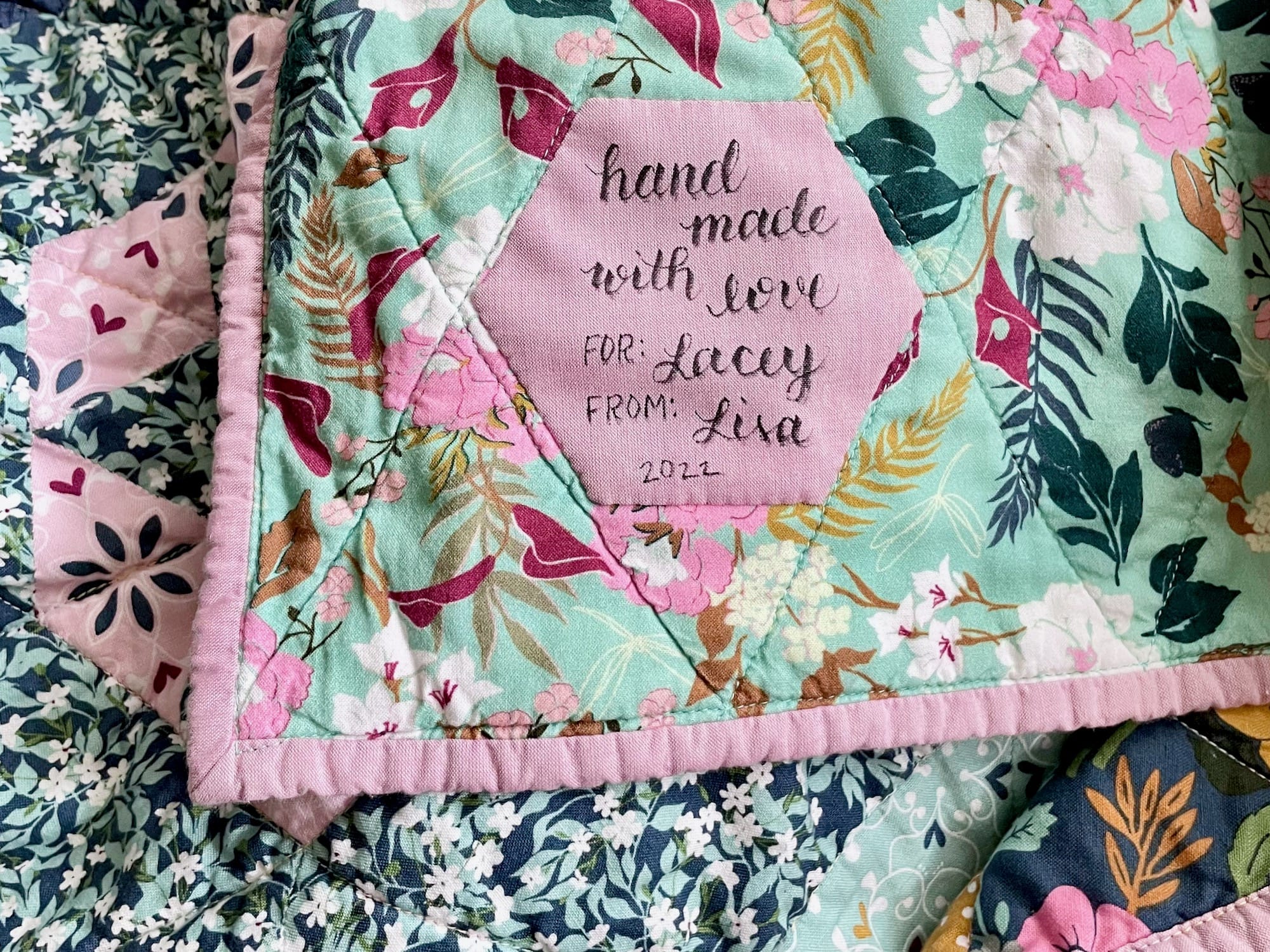 Somewhere in a European airport en route to Africa, I opened my email to find news that she had received it, complete with an unpacking video her husband took so that I could see her open it. It was everything I had hoped. Miraculously, I had sent her a quilted hug.
I've yet to see this friend in person since she received it, but the joy captured on that video and the sweet emails we've sent back and forth since just point to how special stitching can be. It is not only therapy for the stitcher, a piece of tactile artwork, or a lovely bit of home decor. It's a quilted hug that speaks its own language: a language of love, prayer, and friendship.
It's my deepest hope that every stitcher that picks up the Sweet Selah quilt pattern experiences some measure of the joy and healing that stitching and creativity bring. One stitch at a time.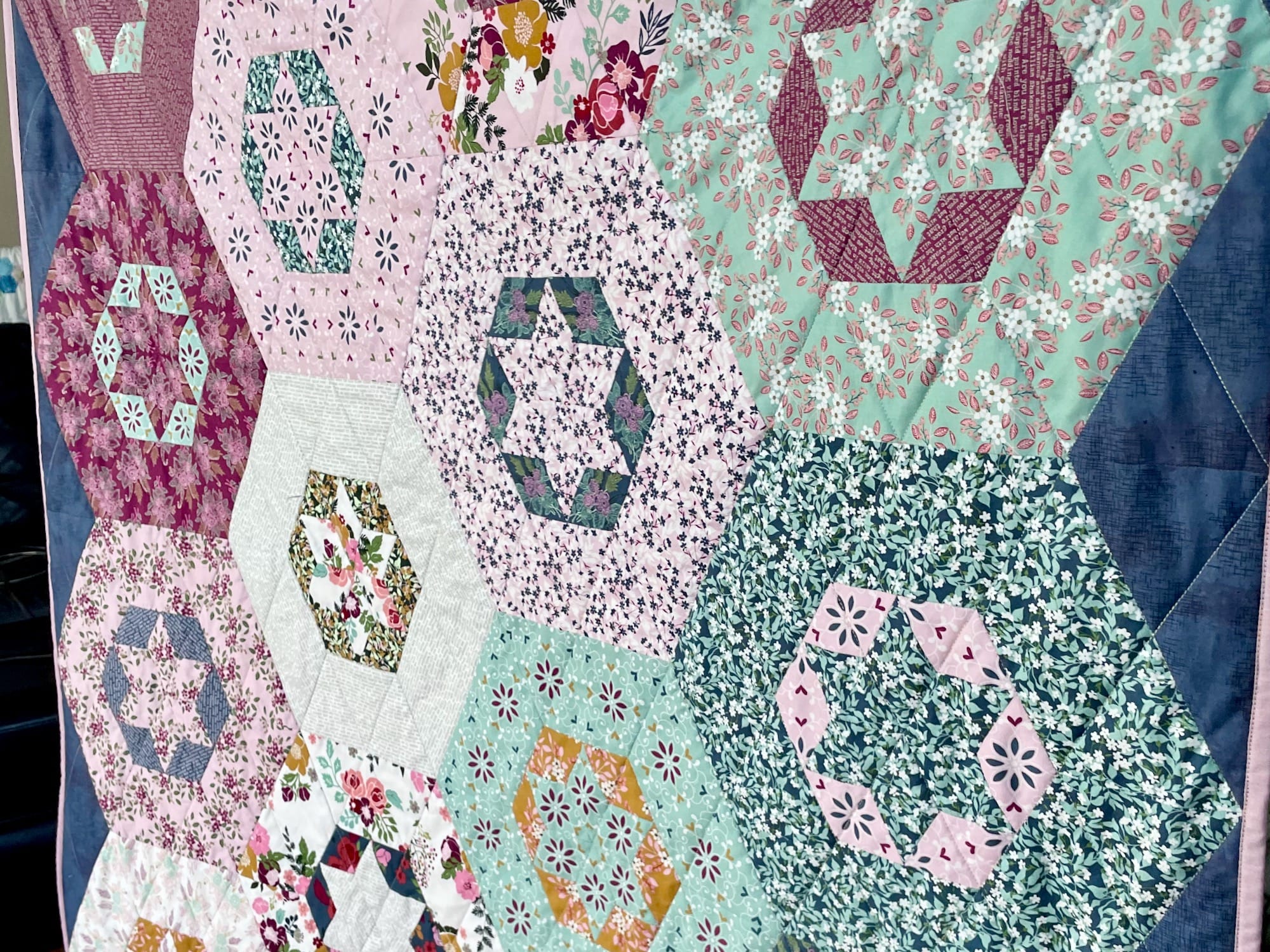 As the year winds down, wouldn't it be nice to settle in to some slow stitching? Better yet, what if you could actually finish it? 
I couldn't believe that I managed to stitch up the quilt in this story in just three months. And, not just any three months, three months of traveling! If that's possible, surely we can stitch up a version together by the end of the year.
Sweet Selah quilt is such a lovely mix of classic EPP shapes but on a fun, larger scale. The result is all of the delight and enjoyment of EPP, but with the satisfaction and achievability of a machine sewn quilt.
Beginning the end of this month, if we only stitch TWO blocks per week, we can easily have a quilt top all stitched together before the hustle and bustle of the holidays.
The stitchalong kicks off on September 29 and runs through December 15. It's the perfect chance to pull out that long hoarded FQ bundle, and give ourselves the gift of a satisfying and achievable quilted hug before the close of 2022.
So, if that sounds as good to you as it does to me, sign up here to receive biweekly emails throughout the stitchalong that will offer lots of insider tips and tricks, plus plenty of inspiration. I can't wait to stitch along with you!